To Be a German or a Turk, That is the Question
By Muriel Mirak-Weissbach, Special to the Mirror-Spectator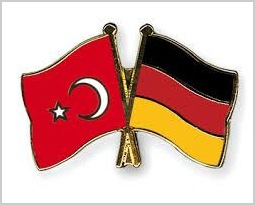 BERLIN, AUGUST 4, 2016— Relations between Berlin and Ankara, already strained by the German Bundestag's June 2 resolution recognizing the Armenian Genocide, have ratcheted down since, reaching a new low point in the wake of the Turkish government's responses to the failed coup attempt on July 15. Though sighs of relief could be heard throughout Germany when it was confirmed that a military coup had been defeated (albeit at the cost of many lives), new apprehensions arose with the blow by blow reports of mass arrests, not only of military actors who had commanded tanks and occupied buildings, but of legions of others whose alleged crime was association with the movement of Fethullah Gülen, the man promptly designated as the mastermind behind the coup. After the military officers of various ranks, it was the police, the magistrates, lawyers and court officials, then teachers and university professors and rectors, media outlets and their journalists, then public officials, bureaucrats in the public administration, even personnel in the ministries who were either carted off to rapidly overfilled prisons or summarily dismissed from their jobs and their institutions shut down.
President Ragip Tayyip Erdogan was apparently not playing with metaphors when he announced that the failed coup had been a "gift from heaven," which made possible and necessary the broad purges of all suspected Gülen associates throughout the institutions of the nation.
This did not sit well with the German political elite, whose spokesmen expressed "concern" and urged Erdogan, even in the heat of crisis, to respect the rule of law in his pursuit of those deemed responsible for the putsch attempt. When Erdogan mooted that the death penalty might be reinstated to punish the golpisti, alarm bells went off in Germany and the rest of Europe. Were that to be the case, as not only German Foreign Minister Steinmeier, but also EU officials said, such a move would compromise Turkey's bid for membership in the EU which does not admit capital punishment; accession talks would be put on ice.
Turkish government representatives forced the issue. Foreign Minister Mevlüt Cavusoglu, in a full page interview in the
Frankfurter Allgemeine Zeitung
on July 31, suggested that "the decision might be made in a referendum," adding that the "people" were demanding the death penalty in thousands of tweets and SMS to the government. The same Cavusoglu demanded that the EU deliver on its promise to lift visa restrictions for Turkish citizens as part of the agreement on refugees, and gave a deadline for it. The EU reiterated its refusal on official grounds that Turkey, like any other country, had to fulfill the 72 conditions for that privilege. For Cavusoglu it was a simple bargain: either the EU granted visa-free travel or Turkey would renege on its agreement with the EU on refugees. The response from Germany and Brussels was immediate and unequivocal: we will not be blackmailed.
Tensions climaxed on July 31 when up to 40,000 Turks residing in Germany and Germans of Turkish descent turned out in Cologne for a massive demonstration in support of Erdogan. Officially called by the Union of European Turkish Democrats (UETD), a pro-AKP group, the demonstration was organized around the slogan: "Yes to democracy, No to the coup." Since several small counterdemonstrations were announced by groups protesting Erdogan's clampdown on civil liberties, local police organized a massive presence, and fortunately no violence occurred.
The problem was political. Organizers had planned for Erdogan to address the demonstration by video, his image projected on a huge screen, but local authorities, fearing conflict between rival groups, banned it. When demonstration organizers took the issue to the German Constitutional Court, the ban was confirmed. Erdogan could not speak. That was the ultimate insult. Minister for European Relations Ömar Celik denounced the decision as "contrary to democratic values" and Sport and Youth Minister Akif Cagatay Cilic, who addressed the crowd, demanded a "reasonable explanation for why it had been rejected." A statement by Erdogan was read, however, and in it he expressed his thanks for the support of Turks in Germany, many of whom had taken to the streets against the coup on July 15, and stressed that the bonds between Turks here and Turkey were "stronger than ever."
That was not the end of the matter. On August 1, the Turkish Foreign Ministry summoned the German ambassador for a call down, Erdogan spokesman Ibrahim Kalin said the court decision had been "unacceptable," and Justice Minister Bekir Bozdag called it an "illegal and discourteous moment," a "disgrace" for democracy and law, adding that it was unacceptable for Germany to even speak to Turkey about democracy, law and human rights and freedom.
The Real Issue
One does not have to be a political scientist or journalist to ask, what in the world is going on here? Unless this is a kindergarten and the children are playing politics, something more is at stake.
On one level it is a question of diplomacy and international relations. Does Erdogan's Turkey (or any other government) have the right to dictate terms to Germany (or any other country) in such a Mafioso fashion? And thereby throw all legal and political agreements (be it on refugees or visa restrictions) to the winds, on grounds that relevant juridical conditions are deemed "offensive" to the "honor" of the said partner? Clearly, neither Germany nor the EU will capitulate to such threats; indeed, in Brussels some are already drafting alternate scenarios for dealing with the refugee crisis, should Turkey renege on its agreements.
But on a deeper level, it is a question of identity, personal and national identity. Are the Turks living in Germany, whether as legal residents or as passport-holding German citizens, Turks or Germans? For Erdogan et al, there is no question that they are all Turks, and that their undivided loyalties must lie with Turkey. This is what Erdogan had in mind when, in a 2010 speech he delivered in Cologne, he stated that "assimilation is a crime against humanity." Or, more recently, when he lashed out at Bundestag members who had voted in favor of the resolution on the Armenian Genocide, suggesting they submit to a blood test, to determine whether they had Turkish blood, or "tainted" blood.
In the wake of the failed coup attempt in Turkey, Erdogan has been conducting his heaven-sent purge operation against perceived enemies not only at home but also abroad. Not only has he demanded that the U.S. extradite Gülen, but his Consul General in Stuttgart sent a letter to the regional government demanding that it investigate various institutions affiliated with the Gülen movement. The Minister President Winfried Kretschmann, of the Green Party, flatly refused, and extraditions are out of the question.
In a wide-ranging joint interview with the
Frankfurter Allgemeine Zeitung
on July 29, Kretschmann joined with Green Party national leader Cem Özdemir, to discuss the matter. They both rejected out of hand any attempt by Erdogan to interfere in the internal affairs of a sovereign German state. The role of DITIB, which represents most Turkish mosques in Germany, and one third of all mosques, is crucial. The imams in the mosques of this group are all sent from the religious authorities in Turkey and their messages in Friday prayers reflect the political line from the homeland. Cem Özdemir reported that their members had complained to him they did not feel "represented" by the Turkish-German politicians here, and he countered, "I was however not elected by some ethnic group, but by citizens, and I represent my congressional district." Kretschmann was explicit: DITIB, he said, "considers itself as the representative of a foreign state in Germany – and we do not accept that."
What, then, does it mean to be a Turk, whether in Germany or elsewhere? Rainer Hermann, a Middle East expert, penned an insightful profile for the
Frankfurter Allgemeine Zeitung
. If in the beginning of the Ottoman Empire, peoples were organized according to religions (millets), though the leaders were Turkish, it was only under Atatürk that the idea of "Turk" was forged. Hermann references the book by Stefan Ihrig, on the importance of Atatürk for Hitler, particularly as far as the notion of an ethnically/racially uniform state is concerned.
Is that what it means to be "Turkish" in Erdogan's world today? Does it mean that, because one is an ethnic Turk, who comes from, or whose parents or grandparents come from Turkey, then that person has a duty to conform to and support a specific political ideology, in this case the belief structure of Erdogan's AKP? Is that what he proposes men and women of Turkish descent in Germany, whether long-term residents or citizens, should embrace as a self-identity?