Unless otherwise indicated, the articles here and in the
Archive
appeared on
www.globalresearch.ca
---
German Government Sees Erdogan Support for Islamist Militants
By Muriel Mirak-Weissbach
Special to the Mirror-Spectator – AUGUST 19, 2016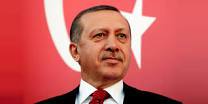 BERLIN — Rumors, reports and allegations pertaining to covert support for terrorists by Turkish President Recep Tayyip Erdogan's government have circulated since the first armed Syrian groups convened in Turkey, in the early stages of the Syrian crisis.
In late 2015, the Saudi connection was exposed in the German press; it was not only the Wahhabite ideology but also direct military support that came to light. In the December 12, 2015 issue of the Armenian Mirror-Spectator ("Friends of ISIS – First in Riyadh, Now in Ankara?"), I reported on this coverage and suggested that the case of Turkey should also be put under the magnifying glass. In recent weeks, the issue has crept into the newspapers in background features and commentaries. Now, according to a press report by the German television channel ARD in its online edition, it appears that the German government has officially expressed the view that active cooperation with such organizations in the Middle East has been part of a conscious policy on the part of Ankara.
The news was released on radio and online publications on August 16, and cited the Berlin office of ARD-Informationen, the first national television station, as its source. ARD reported on a written reply by the federal government to a parliamentary question posed by the opposition Left (Linke) Party, a reply that was classified as confidential and not intended for publication. "The numerous solidarity events and support activities for the Egyptian Muslim Brotherhood, Hamas and armed Islamist opposition in Syria on the part of the governing party AKP and President Erdogan underline their ideological affinity to the Muslim Brothers," according to the document quoted by ARD. As it notes, this would be the first time that the German government has officially acknowledged a direct link between Erdogan and such organizations.
According to ARD, the Turkish government deliberately intensified these relations over time. In the leaked document one reads: "As a result of the progressively Islamized domestic and foreign policy that Turkey has followed especially since 2011, it has developed into the central action platform for Islamist groups of the Near and Middle East region." Again according to ARD, this government view rested on an evaluation of the German Intelligence Agency (Bundesnachrichtendienst-BND). The Interior Ministry, according to ARD, did not coordinate the reply with the Foreign Ministry, and it was not intended to be made public. It does stand however as an official government position.
As of this writing reactions from Ankara have not yet appeared. But one should prepare for fireworks.
(— Note: Translations from German are those of the author.)
---
A Special Light Shines through Art
By Muriel Mirak-Weissbach
Special to the Mirror-Spectator – AUGUST 18, 2016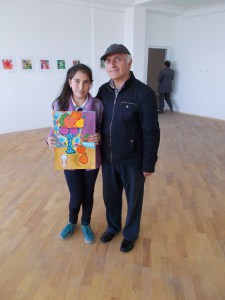 GUMRI, Armenia — When artist Hakob Hovhannisyan returned to Armenia in 2008, after having lived and worked for years in St. Petersburg, he started looking for a place near his native Gumri to set up his studio. Among the many locations he surveyed was Gusanagyugh, a small village about 20 kilometers outside Gumri. It was the particular quality of light that fascinated him; in the morning hours it had one color and mood, at noon, quite another, and as afternoon faded into evening, further nuances emerged and the properties of light underwent further mutations. Convinced that this was where he had to settle, he found a small house that served as both home and studio: a kitchenette, one sitting room with a bed, heated by a small wood-fired stove, and a second room, his atelier, full of paintings.
To paint outside in the magnificent natural surroundings, he would pack his painting materials into a cart, equipped with an umbrella (in case of rain) and a large case containing his paints and brushes. Hauling the cart by its long handle, Hovhannisyan would venture out into the vast countryside, select a landscape, place a canvas on his easel and begin to paint. No sooner had he traced a few brush strokes than he noticed he was no longer alone. By ones and twos, then in swarms, children would approach and surround the painter, awestruck by what was the magic of creativity. With wide eyes and gaping mouths, they would stand or sit and stare, following every magic stroke of the brush with fascination. They considered him a miracle maker.
For the outdoor artist, who soon became known as the "hunter of the last light," it was obvious that the children should have the chance to paint themselves. Through discussion with the local village school authorities and an initiative called "Gallery 25," an art class came into being, and was officially opened on March 1, 2013. The secondary school, with eight grades, now also offers music and dance classes to the local children.
The classroom for art lessons on the first floor is spacious, its large windows let in a flood of light — in all its fascinating variations. Paintings fill the walls and easels, with subjects ranging from everyday events — mother ironing clothes or baking lavash, children playing soccer, girls playing with kittens — to reminders of the political social reality — men in military uniform patrolling the border area, scenes with the Armenian flag flying — to illustrations of fairy tales or folklore events, like the fire dancing. Hovhannisyan never tells his pupils what to paint, or how to paint, but rather shows them the basics and urges them to paint what they have in mind, what they know from daily life or what they can imagine. The school places great value on the education and maintenance of the child's individuality. Judging from the high quality and considerable quantity of works produced, the children have no lack of creative imagination.
These children also have the opportunity to create and expand their own world through visits to art galleries, museums and other cultural centers. They come into contact with the works of well known artists thanks to films and stories. Master classes are available, and the pupils have the chance to meet extraordinary personalities, also through excursions and hike in Gusanagyugh and other interesting locations.
Following the example of the man who inspired the children, the "Suns of Gusana" program enables them to paint outdoors as well. In the village itself there is a wealth of archeological remains which may provide inspiration. Based on the remains discovered there, it is thought that the village dates back to the first century, and a small castle shows that it was once a royal residence. Two castles originate in the Urartian period, one of them known as Akayablur. There are numerous ancient graves, traces of gigantic buildings, the Church of St. Astvatsatsin from the 11th century and other monuments.
The village takes its name from the bard Nakhshikar Sargis, who once resided there. In fact, the word "gusan" means bard or minstrel in Armenian. (Minstrels in ancient and medieval times were musicians who composed and performed their own poems and songs, very similar to troubadours in the European tradition.) So it is appropriate that the children can also learn to perform music and to dance at the village school.
The promoters of the initiative, Gallery 25, are based in Gumri at the Berlin Hotel, which hosts art exhibitions. Their mission is to uphold the principles of artistic and intellectual freedom, through support for local and international artists and for cultural education. They stress that "Suns of Gusana"  represents the brightest spot in the village. Though located in a tiny remote village, with a population of little over 1,000, the pupils are making themselves known well beyond the borders of Armenia, as their works have been exhibited not only locally but also in Japan, Austria and Germany. Gusanagyugh is not only tiny and remote, it is dirt poor. Like other localities in Shirak, it was devastated by the earthquake in 1988. Much has been rebuilt, but a certain sadness hangs in the air. This is due not only to the modest housing but also to the military presence at the nearby Turkish borde. Truly, the art school project has brought many new suns into the sky, providing not only that very special kind of light, but also human warmth and the light of hope in a better future for Gusanagyugh's fascinated, diligent, talented children.
---
To Be a German or a Turk, That is the Question
By Muriel Mirak-Weissbach, Special to the Mirror-Spectator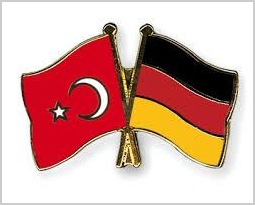 BERLIN, AUGUST 4, 2016— Relations between Berlin and Ankara, already strained by the German Bundestag's June 2 resolution recognizing the Armenian Genocide, have ratcheted down since, reaching a new low point in the wake of the Turkish government's responses to the failed coup attempt on July 15. Though sighs of relief could be heard throughout Germany when it was confirmed that a military coup had been defeated (albeit at the cost of many lives), new apprehensions arose with the blow by blow reports of mass arrests, not only of military actors who had commanded tanks and occupied buildings, but of legions of others whose alleged crime was association with the movement of Fethullah Gülen, the man promptly designated as the mastermind behind the coup. After the military officers of various ranks, it was the police, the magistrates, lawyers and court officials, then teachers and university professors and rectors, media outlets and their journalists, then public officials, bureaucrats in the public administration, even personnel in the ministries who were either carted off to rapidly overfilled prisons or summarily dismissed from their jobs and their institutions shut down.
President Ragip Tayyip Erdogan was apparently not playing with metaphors when he announced that the failed coup had been a "gift from heaven," which made possible and necessary the broad purges of all suspected Gülen associates throughout the institutions of the nation.
This did not sit well with the German political elite, whose spokesmen expressed "concern" and urged Erdogan, even in the heat of crisis, to respect the rule of law in his pursuit of those deemed responsible for the putsch attempt. When Erdogan mooted that the death penalty might be reinstated to punish the golpisti, alarm bells went off in Germany and the rest of Europe. Were that to be the case, as not only German Foreign Minister Steinmeier, but also EU officials said, such a move would compromise Turkey's bid for membership in the EU which does not admit capital punishment; accession talks would be put on ice.
Turkish government representatives forced the issue. Foreign Minister Mevlüt Cavusoglu, in a full page interview in the
Frankfurter Allgemeine Zeitung
on July 31, suggested that "the decision might be made in a referendum," adding that the "people" were demanding the death penalty in thousands of tweets and SMS to the government. The same Cavusoglu demanded that the EU deliver on its promise to lift visa restrictions for Turkish citizens as part of the agreement on refugees, and gave a deadline for it. The EU reiterated its refusal on official grounds that Turkey, like any other country, had to fulfill the 72 conditions for that privilege. For Cavusoglu it was a simple bargain: either the EU granted visa-free travel or Turkey would renege on its agreement with the EU on refugees. The response from Germany and Brussels was immediate and unequivocal: we will not be blackmailed.
Tensions climaxed on July 31 when up to 40,000 Turks residing in Germany and Germans of Turkish descent turned out in Cologne for a massive demonstration in support of Erdogan. Officially called by the Union of European Turkish Democrats (UETD), a pro-AKP group, the demonstration was organized around the slogan: "Yes to democracy, No to the coup." Since several small counterdemonstrations were announced by groups protesting Erdogan's clampdown on civil liberties, local police organized a massive presence, and fortunately no violence occurred.
The problem was political. Organizers had planned for Erdogan to address the demonstration by video, his image projected on a huge screen, but local authorities, fearing conflict between rival groups, banned it. When demonstration organizers took the issue to the German Constitutional Court, the ban was confirmed. Erdogan could not speak. That was the ultimate insult. Minister for European Relations Ömar Celik denounced the decision as "contrary to democratic values" and Sport and Youth Minister Akif Cagatay Cilic, who addressed the crowd, demanded a "reasonable explanation for why it had been rejected." A statement by Erdogan was read, however, and in it he expressed his thanks for the support of Turks in Germany, many of whom had taken to the streets against the coup on July 15, and stressed that the bonds between Turks here and Turkey were "stronger than ever."
That was not the end of the matter. On August 1, the Turkish Foreign Ministry summoned the German ambassador for a call down, Erdogan spokesman Ibrahim Kalin said the court decision had been "unacceptable," and Justice Minister Bekir Bozdag called it an "illegal and discourteous moment," a "disgrace" for democracy and law, adding that it was unacceptable for Germany to even speak to Turkey about democracy, law and human rights and freedom.
The Real Issue
One does not have to be a political scientist or journalist to ask, what in the world is going on here? Unless this is a kindergarten and the children are playing politics, something more is at stake.
On one level it is a question of diplomacy and international relations. Does Erdogan's Turkey (or any other government) have the right to dictate terms to Germany (or any other country) in such a Mafioso fashion? And thereby throw all legal and political agreements (be it on refugees or visa restrictions) to the winds, on grounds that relevant juridical conditions are deemed "offensive" to the "honor" of the said partner? Clearly, neither Germany nor the EU will capitulate to such threats; indeed, in Brussels some are already drafting alternate scenarios for dealing with the refugee crisis, should Turkey renege on its agreements.
But on a deeper level, it is a question of identity, personal and national identity. Are the Turks living in Germany, whether as legal residents or as passport-holding German citizens, Turks or Germans? For Erdogan et al, there is no question that they are all Turks, and that their undivided loyalties must lie with Turkey. This is what Erdogan had in mind when, in a 2010 speech he delivered in Cologne, he stated that "assimilation is a crime against humanity." Or, more recently, when he lashed out at Bundestag members who had voted in favor of the resolution on the Armenian Genocide, suggesting they submit to a blood test, to determine whether they had Turkish blood, or "tainted" blood.
In the wake of the failed coup attempt in Turkey, Erdogan has been conducting his heaven-sent purge operation against perceived enemies not only at home but also abroad. Not only has he demanded that the U.S. extradite Gülen, but his Consul General in Stuttgart sent a letter to the regional government demanding that it investigate various institutions affiliated with the Gülen movement. The Minister President Winfried Kretschmann, of the Green Party, flatly refused, and extraditions are out of the question.
In a wide-ranging joint interview with the
Frankfurter Allgemeine Zeitung
on July 29, Kretschmann joined with Green Party national leader Cem Özdemir, to discuss the matter. They both rejected out of hand any attempt by Erdogan to interfere in the internal affairs of a sovereign German state. The role of DITIB, which represents most Turkish mosques in Germany, and one third of all mosques, is crucial. The imams in the mosques of this group are all sent from the religious authorities in Turkey and their messages in Friday prayers reflect the political line from the homeland. Cem Özdemir reported that their members had complained to him they did not feel "represented" by the Turkish-German politicians here, and he countered, "I was however not elected by some ethnic group, but by citizens, and I represent my congressional district." Kretschmann was explicit: DITIB, he said, "considers itself as the representative of a foreign state in Germany – and we do not accept that."
What, then, does it mean to be a Turk, whether in Germany or elsewhere? Rainer Hermann, a Middle East expert, penned an insightful profile for the
Frankfurter Allgemeine Zeitung
. If in the beginning of the Ottoman Empire, peoples were organized according to religions (millets), though the leaders were Turkish, it was only under Atatürk that the idea of "Turk" was forged. Hermann references the book by Stefan Ihrig, on the importance of Atatürk for Hitler, particularly as far as the notion of an ethnically/racially uniform state is concerned.
Is that what it means to be "Turkish" in Erdogan's world today? Does it mean that, because one is an ethnic Turk, who comes from, or whose parents or grandparents come from Turkey, then that person has a duty to conform to and support a specific political ideology, in this case the belief structure of Erdogan's AKP? Is that what he proposes men and women of Turkish descent in Germany, whether long-term residents or citizens, should embrace as a self-identity?
---
Armenians Celebrate to Help Artsakh Victims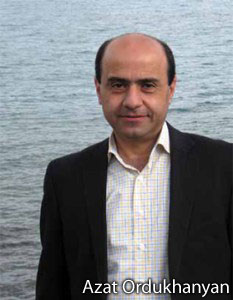 By Muriel Mirak-Weissbach – Special to the Mirror-Spectator
BOCHUM, Germany JULY 21, 2016— For Nathanial Ullmann, a journalist for the largest regional newspaper in Germany, the response of participants at a concert in Bochum on July 8 showed just "how different German and Armenian culture are." He explained: "Whereas Germans at an elevated cultural event sit there in silent wonder, Armenians sing, dance and clap in happy enthusiasm." And that is the case, even if the occasion might be a sad one.
This was a benefit concert in the Christ's Church in Bochum-Linden, organized by the Armenian-German Association 1860, and the proceeds will go to the families of soldiers killed in the Artsakh war last April, as the organization's head Azat Ordukhanyan said. Thus, a sad occasion, indeed; and yet, the mood was one of celebration. The ensemble "After Our Era," which had traveled from Armenia for this concert and for a folk festival near Frankfurt, performed on traditional instruments – duduk, tar (sitar), cylinder drum and Armenian bagpipe — while Madlena Galstyan sang. Selecting from a repertoire that spans the centuries, the musicians (virtually all graduates of the Yerevan Conservatory) presented works by the 10th-century monk Gregor of Narek, other medieval composers and, from the modern era, Makar Yekmalyan and Komitas Vardapet.
"And we have good reason to celebrate," said Heide Rieck, while introducing the performers to the hundreds of guests. Rieck, who is a leading figure in Bochum's literary milieu, has been engaged in several Armenian initiatives over the past years. Cause for celebration, she said, was the German Bundestag's recognition of the genocide on June 2 of this year. The music of Komitas, she said, who studied in Berlin and Paris, "has not been silenced and it has won out over the murderers, it lives on."
The church was filled to capacity, as hundreds of Armenians from the Ruhr region had come, as well as several from as far away as Hamburg and Toulouse. Traffic jams had delayed the concert but once all had arrived, the musicians marched onto the elevated altar area to the sound of rolling drums and the shrill tones of a flute. The parishioners of this church feel a special relationship to Armenia and the fate of its people, for a historical reason: a nurse from Bochum-Linden who had served in the Second World War bequeathed her life's savings – 50,000 deutsche marks — for the church to erect a statue on its premises, dedicated to the cause of peace. In 2005 a minister of the Christ's Church traveled to Armenia, and in Gumri met sculptor Albert Vardanyan. The following year, his statue, "Pulsar — Ode to Peace," was unveiled in front of the church. In his words of welcome, church representative Rudolf Skibinski Palmer highlighted this special relationship, and said that Armenia would figure as a theme next year in the context of festivities to celebrate the 500th anniversary of Martin Luther's theses.
Then the music began, and as Rieck described it, "marvelous sounds rang out from a faraway world, first melancholic, then soon with wit and swing," both so familiar to the Armenian soul; "and they let themselves be carried away, they clapped, they swayed in rhythm, and soon five young women (along with two little girls on the sidelines) could no longer sit still, and they danced, hips moving, arms raised and hands swirling – softly and yet strong, like wild flowers in the winds…"
When the concert concluded, the applause was enough to make the church walls shake. Ordukhanyan said it was a "unique feeling to hear Armenian songs in this setting." But the evening was not over. Groups gathered to talk and enjoy refreshments, then one of the musicians sat down at the organ and began to play, a flute joined in and even a German musician on hand took up his instrument, a German-Armenian duduk duet rang out, to shouts of "long live the Armenian-German friendship." It was midnight when the doors to the church finally closed. The journalist from the
Westfaelische Allgemeine Zeitung
summed up: "The Armenian people have not had an easy time of it in their history — but despite that, or perhaps because of that, they have never lost the joy of life."
---
The Challenge of Peace
By Muriel-Mirak-Weissbach
Special to the Mirror-Spectator – JUNE 30, 2016
Much has been made of the official Turkish reaction to statements made by Pope Francis during his visit to Armenia June 24-26. That hysterical response was as predictable as it was tasteless. One might take due note, but then move on.
The central thrust of the Pope's visit was not his recognition of the genocide per se but his guidance on the course to follow to overcome the enduring adversary relationship between Armenians and Turkey, and beyond. His appeal to Armenia's church and political leaders, as well as its people — especially the younger generation — was to mobilize those same spiritual and psychological resources which have made Armenian survival possible to intervene in the cause of peace and justice, not only there but throughout the world.
Although he is a head of state, it was with his moral authority as a spiritual leader that Pope Francis addressed issues of political import, which constituted a certain challenge to the Armenian people, whether in the Republic of Armenia or the Diaspora. In a video message sent on June 22 to the people of Armenia, and reported on the Vatican radio website, the Pontiff outlined the main themes of his mission. He would make this "visit to the first Christian country," he said, as a pilgrim, who would "draw on the ancient wisdom of your people and to steep myself in the sources of your faith." He appealed for perseverance, not to give up "even in the face of the repeated assaults of evil," and pledged his support for efforts towards peace and reconciliation. In parallel he would seek to fuel the process towards unity of all Christians.
Peace, Reconciliation and Unity
In his entry in the guest book at the Tsitsernakaberd genocide memorial, Pope Francis wrote: "Here I pray with sorrow in my heart, so that a tragedy like this never again occurs, so that humanity will never forget and will know how to defeat evil with good…. May God protect the memory of the Armenian people. Memory should never be watered down or forgotten: memory is the source of peace and the future."
Throughout his visit he developed the deeper implications of this message. The sufferings of the genocide should never be forgotten. "Not to forget them, he said in Yerevan, "is not only a right, it is a duty," to warn against recurrence of such horrors. At the same time, he recalled "with admiration" how Armenians had survived through the power of their faith, which is their "true strength." The Pope compared the "wounds still open, caused by fierce and senseless hatred" to the wounds of the risen Christ, shown to the disciples on Easter. "Those terrible, painful wounds suffered on the cross, transfigured by love," he said, "have become a wellspring of forgiveness and peace." That means, "Even the greatest pain, transformed by the saving power of the cross, of which Armenians are heralds and witnesses, can become a seed of peace for the future."
How memory of such suffering, infused by love, can become the impetus for peace is a difficult concept, and not only intellectually. It requires a fundamental shift, emotionally and psychologically, in the mind of the persecuted. It means resisting "being caught up in the illusory power of vengeance," a point Pope Francis was to reiterate. Appealing explicitly to Armenian youth, he said they should "strive to be peacemakers" and build a "culture of encounter and reconciliation." Saint Gregory of Narek, whom Francis proclaimed a Doctor of the Church last year, he dubbed here as a "Doctor of Peace" and quoted a bold passage from his Book of Lamentations: "Remember [Lord,] those of the human race who are our enemies as well, and for their benefit accord them pardon and mercy.… Do not destroy those who persecute me, but reform them; root out the vile ways of this world, and plant the good in me and in them." Again, with reference to Gregory, Francis said that this "master of life," taught that we all are in need of mercy; despite failings and injuries, "we must not become self-centered…."
Defeat evil through the power of good — this is the concept that reverberated through the Pope's several homilies and speeches. In the struggle for unity of Armenians, and the broader unity of all Christians, Pope Francis again reached back into Armenian church history for examples, and again stressed the need to combat negative personal inclinations. The saintly Catholicos Nerses Shnorhali, he said, who was "Tireless in seeking unity, […] sought to achieve Christ's will that those who believe 'may all be one.' Unity," he went on, "does not have to do with strategic advantages sought out of mutual self-interest…" Francis added that we must "abandon rigid opinions and personal interests" in the name of love, love which is also "capable of softening the hardness of the heart of Christians, for they too are often concerned only with themselves and their own advantage."
Self-reflection
That this Pope has the authority to speak his mind on such matters is irrefutable; he has not only paved the way in the international diplomatic arena for political and institutional recognition of the genocide, he has also called members of his own Curia onto the carpet for their personal failings. If the Pontiff was generous in his appreciation of the strength of the Armenian Church and its people through centuries of tribulations, as well as the beauty of its intellectual and artistic accomplishments, he was no less forceful in his appeal for willful change in a certain mindset which may thwart the search for peace. He laid down the gauntlet to all of us Armenians, whether in the Republic or abroad. History has provided enough tragic examples that peace treaties may be worth less than the paper they are written on. Unless there is a fundamental revolution in thinking, a deliberate emotional and psychological change in the minds and hearts of those seeking to overcome conflicts — and on all sides — the paper remains nothing more than paper. Not to mention unity — whether of the Armenians or of the churches.
In following the reports of Pope's visit, I was reminded of a couple of singular encounters with fellow Armenians in recent years. The young taxi driver in Glendale, who had been in the US only a few years, told me with grim joy and fierce pride about how he had "shot and killed four Turks" in the war. Or the woman who came up to me after a book presentation in Boston and asked me if I knew any Turks in Germany, and if yes, whether or not I would shake hands with them.
---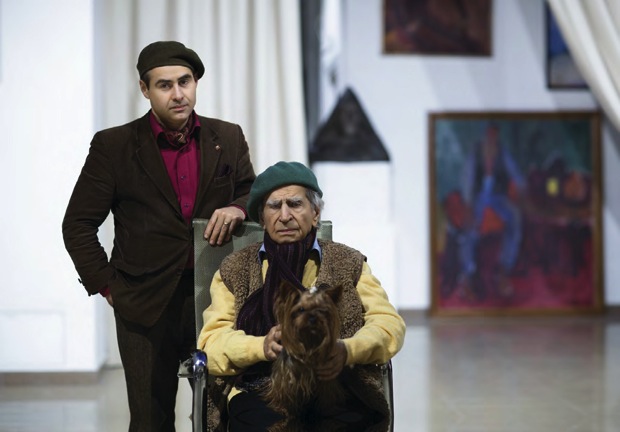 Archi Galentz, Nikolai Nikogosyan and Gougen in "Niko" cultural center. Moscow 2016. (Photo by Oleg Tzerbaev)

Artistic Journeys through National Destinies

By Muriel Mirak-Weissbach
Special to the Mirror-Spectator – JUNE 23, 2016
BERLIN — This is a most rare art exhibition. Not focused on one artist or even a school, it presents the works of distinct individuals joined through family ties, whose creative endeavors trace out a multifaceted cultural itinerary across vast geographical expanses through decades of turbulent political and social developments. The show that opened in Berlin on May 14, entitled "Four Life Paths: Two Artist Couples in the Armenian Tradition," is indeed something very special. The works displayed are by four artists whose lives span a century, from before the First World War to the present. Two are Genocide survivors from Western Armenia, who made their way across the Middle East to Yerevan, whereas the other two were born and raised in Armenia, studied and worked there and in Russia. Through their personal and artistic histories, one encounters life in the diaspora, struggles in the Soviet period and the challenges of the independent Republic of Armenia.

The artists are Mariam Aslamazyan (1907 – 2006) and her brother-in-law Nikolai Nikogosyan (born 1918); Harutyun Kalentz (1912 – 1967) and his wife Armine Kalentz (1920 – 2007). Three of the four continued even after the collapse of the Soviet Union, and their artistic endeavors provide rare insights especially for the younger generation into these two crucial epochs in modern Armenian art. For many young artists active 25 years after the fall of the Berlin Wall, it is difficult to conceive what life at that time was like.

The exhibition at the Kulturhaus Karlshorst, which runs until July 3, is part of the German-Armenian Cultural Days, an initiative taking place this year for the second time, which aims at strengthening the bonds of friendship between the two communities. Among the sponsors are the Association of European and Armenian Experts e.V. (AEAE), the Berlin Lichtenberg Department of Education, Culture, Social Affair and Sports as well as the InteriorDAsein/Berlin artist run space. Curators are Dr. Peter Michel, a leading expert in Soviet art, and Archi Galentz, artist and creator of InteriorDAsein, which houses many of the 30 works on display.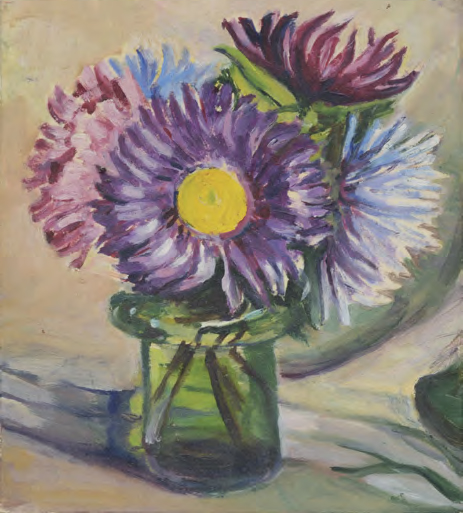 Mariam Aslamazyan."Astern in a green glass" 2002. (Photo by Archi Galentz)


Perhaps Archi Galentz is the only person who could have put together such an exhibition. All four artists are his ancestors, and most of the works come from his collection, which he received as memoirs, or as pieces to be restored, or to put on display. But it would be wrong to reduce this to a family affair. Certainly, due to his personal relationship to the artists, he has been able to afford the visitor a privileged insight into their careers as well as their personalities. But his aim in presenting these works, shown here together for the first time, is to explore the question raised, not only by them, but by the younger generation that came after, the generation to which Archi Galentz belongs: how should we evaluate that period in art?

The catalogue for the exhibition, itself a little masterpiece, opens with a rich exchange of views between Michel and Galentz on this central theme. In their dialogue on "The Destiny of Artists and History," art critic Michel noted that "before 1990 in Armenia and in East Germany there were in fact similar developments in the arts." Following the collapse of the Soviet Union, "it was not a matter of chasing after some nebulous ideas of freedom, but rather of uniting artistic awareness of responsibility with the actually contradictory reality, not to throw grand human ideals overboard, but rather to preserve them and at the same time make people aware of the failures." Artists in communist East Germany and those in Armenia adopted different means to this end; the former explored "the language of myths" whereas the latter became "conscious of the power of national traditions." For Galentz, it is important in evaluating the Soviet experience to avoid "simplistic half truths," for example, by pitting "communism" against "experimentation," or "freedom" against some "party line" approach. In his view, the value of artistic expression cannot be reduced to formalistic criteria: "Soviet art was … involved in continuing a certain humanistic project, with the question, what kind of society one should live in, and how this sort of man should be, and so forth."

Michel recalled an observation made by German painter Bernhard Heisig, who said, "The artist's position in society – even in a socialist society – does not necessarily have to be negative. His significance does not have to lie exclusively in protest against his surroundings." Such a negative approach in fact has given rise to ridiculous excesses, for example, among those, he said, "who confuse avant-gardism with the progressively creative," that is, those who think anything "new" is necessarily creative or, that to be creative one has to seek novelty.

The four artists featured in the exhibition found themselves in a historical framework following the collapse of the Soviet Union in which, as Galentz put it, they had to "rediscover painting as their art form and field of interest." The main theme of the exhibition is "the interconnection of two schools of realism" represented by these four classical artists: concentration in the traditional form of representation was developed by Mariam Aslamazyan and Nikolai Nikogosyan, both born in Armenia, after their education in Russia. As for Harutyun Kalentz and Armine Kalentz, who moved from the diaspora in Lebanon to Soviet Armenia, "it unfolded from the yearning to develop their own national 'artistic language' in great variety" in which paint functions as "a means to achieve depth in the canvas."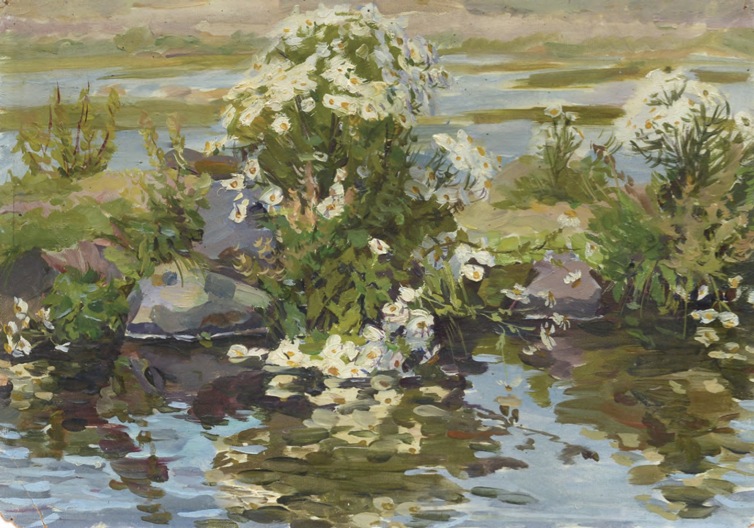 Mariam Aslamazyan."Chamomiles by the River Bank" 1953 (Photo by Archi Galentz)

Related through Art
Mariam Aslamazyan and Nikolai Nikogosyan are considered an artistic "pair" here, not because they were joined in matrimony, but because they worked together in art and had close family ties. Aslamazyan, Archi's great-aunt, came from Bar-Shirak, a village near Gumri (formerly Leninikan) and had childhood memories of Turkish occupiers in 1918-1920. She studied art there and in Yerevan, as well as Leningrad, where she met fellow art student Nikolai Nikogosyan in 1938. She exhibited in Yerevan and Moscow in the 1930s, and moved to the Russian capital after the war at the same time that Nikogosyan did. In 1944 or 1945, he married a younger sister of hers (there were six girls in the family), and as a result of the close family relationship that developed, "one can consider the two," Archi says, "as an artist couple. They lived and worked side by side for 60 years."

Aslamazyan received wide recognition for her work. She was named a member of the board of Armenian Artists Association, was honored for her antifascist stance in the war and in 1990 received the title Peoples Artist of the USSR, but her fame extended beyond the Soviet Union. Her works were exhibited across Europe, in Mexico, Africa, and the Far East; she met world famous personalities like Indira Gandhi and she received prizes in India and Egypt. She loved to travel, and everywhere she went portrayed individuals from different cultural worlds, especially, but not exclusively, women: mothers and grandmothers, peasant women as well as ballerinas and actresses. With an energetic use of bold, bright colors, she also explored architectures and landscapes, be it cloisters in Armenia or city scenes from places like Calcutta and Bombay, Madras and Cairo. "I sought for my language in art," she wrote. "I drew everything very thick, the color was extremely intensive; I wanted my pictures to make people happy."

Whereas she was "active in painting, graphic arts and ceramics," we read in the catalogue, her artist companion Nikogosyan "is known above all as a sculptor who also paints and draws." Or, as he so aptly put it, "Sculpture is my wife and painting is my mistress." Born in 1918, Nikogosyan, who is Archi's maternal grandfather, is still active at 97 and has every intention of continuing. Truly a "living legend of Armenian and Soviet art history," he left his native village Shagar in 1930 for Yerevan, then studied in Leningrad at the Institute for Painting, Plastic Arts and Architecture of the Academy of Arts. He exhibited as a member of the Soviet Artists Association, won numerous prizes, was named Peoples Artist of the USSR, appeared in 1956 at the Biennale of Venice, and continued to exhibit widely with personal shows. Armenians and foreign visitors know him for his monumental statues, crafted out of a variety of materials — bronze, plaster, wood, marble or granite — portraying, for example Avetik Ishakyan in Gumri and Mikayel Nalbandyan in Yerevan, or the sculpted portraits of Louis Aragon, Aram Khachaturian, Dmitry Shostakovich, the monuments to Komitas Vardapet and the fifth-century historian Moses of Choren, Vladimir Mayakovsky and Yuri Gagarin, among others. Among the pieces on display in Berlin is a profoundly moving piece, a study for a monument to Paruyr Sevak, seated in a pensive attitude.

No less impressive are the countless drawings and sketches by this extremely prolific artist, portraits which capture the psychological essence with great empathy. Among them his self-portraits, from 2006 and after, occupy a special place. They are, we learn, not designed to be ambitious representations of himself, but rather works in which the artist poses questions to himself, sometimes "ruthless, or thoughtful, sometimes bitter or angry…" They are the self-reflections of someone who, at that age, "loses his vanity in the self-consciousness of his life's achievements and is at peace with himself."

Harutyun and Armine Kalentz were more properly speaking a couple from the diaspora, Galentz told Michel. Archi's paternal grandfather Harutyun was born in 1910 in Gürün, in central Turkey, into a family that traced its origins back to princely beginnings in the ancient Armenian capital of Ani. Armine Baronyan was 10 years younger, and came from Adabazari near Istanbul. Both Harutyun and Armine lost their fathers in the Genocide. Armine fled with her mother and siblings across the Syrian border to Damascus. After the death of his mother in an Aleppo hospital, Harutyun and his siblings ended up in an orphanage. It was there that the young boy's artistic talent was discovered and encouraged. After studying with Armenian artists, he travelled through Syria and Lebanon, and in 1931 started working in Beirut in the atelier of French impressionist Claude Michelet.

It was in Beirut that Armine, who had discovered her own love for art while visiting Italy in the 1930s, met Harutyun and became his student. She worked with him on the Lebanon pavilion for the world exhibition in New York in 1939-40 and in 1943 the two married. Three years later they moved to Armenia, where they held exhibitions together and with other artists who had also returned, and won honors. In 1963, Harutyun was named Outstanding Artist of the Soviet Republic of Armenia and only four years later died young of a heart attack. Armine had begun to exhibit in personal shows internationally in 1963, with repeated appearances in the 1990s in the United States. She died in 2007.

Other times, other places
How has the work of these four artists, in their particular artistic and personal itineraries been received? As Armenian artists active during the Soviet period, how should they be considered? How were their works received, aside from official honors and titles? And how did they assess this experience? Archi Galentz, who has been in Germany for more than 25 years, says one cannot forget that Armenia was once part of the USSR. The men and women whose works he has put on display "were pillars of Armenian national art but also highly revered personalities in Moscow's greatest museums." For example, there are 26 works by Nikogosyan in the Tretjakow Gallery and a "Niko" Cultural Foundation is in the process of coming into being in the Russian capital.

It was often said that his grandfather Harutyun Kalentz, though acknowledged as a great artist, had not been truly appreciated. But Archi points out that, after his premature death in 1967, the Yerevan city authorities decided to turn his home into a museum. After the collapse of the Soviet Union, there were those who wanted to present him as an opponent of "the communist regime," but if that were the case, Archi wonders, why was he spared in the 1940s and 1950s? His grandfather was certainly not a Russophobe, Archi can say for certain, and he must have realized the security for Armenia that Russia could provide at the time. He may have been an opponent but he cannot be classified as an enemy. In the catalogue both aspects of his political personality are reflected: in a brief account of his dismay at learning that the son of an artist colleague had died of starvation, one may see the opponent; yet he crafted a magnificent portrait of a Russian soldier in uniform in 1964 (a work which has curiously disappeared). His grandfather, Archi remembers, managed to walk a fine line, maintaining his independence and integrity. He succeeded in raising two sons and giving them higher education. Blessed with a patron, who purchased his works and introduced them to a circle of connoisseurs, one might think that compared to today, Kalentz lived the life of "a prince of painters in paradise," says Archi. Living in his own house with a garden, he could paint whenever and whatever he liked, had adequate materials, could entertain guests, drink coffee with them or play his beloved board game nardi (backgammon). In 2010, on the centenary of his birth, the Galentz Museum opened in Yerevan, and in Armenia a commemorative stamp was issued. For his wife, Armine, life in the Soviet Union after 1946 was not easy. But she said she had no regrets about having moved there, since only there could she, as an Armenian women, find fulfillment as an artist.

As for Nikogosyan's fame in Russia, there are a number of statues he was commissioned to create as a young sculptor, commemorative plaques, and critical studies of the period feature his activity. Aslamazyan, who lived to be almost 100 years old, died in Moscow and rests in the pantheon in Yerevan. In her native Gumri, an Aslamazyan Sisters Museum houses works by her and her sister, Eranuhi. At the same time, as Archi points out, they are also part of the Moscow cultural landscape.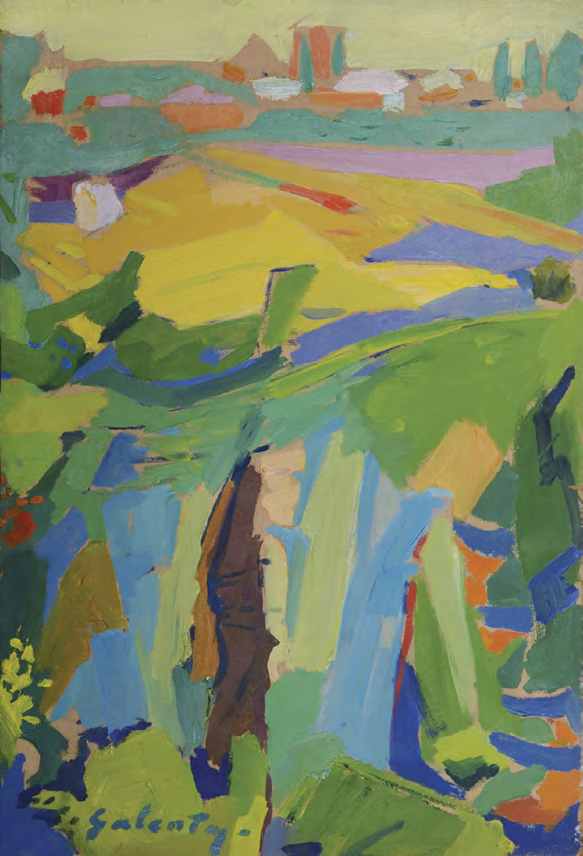 Harutyun Kalentz. "Spring in the Garden" early 1950s (Photo by Archi Galentz)


Distinct Personalities
These four artists, who have shared a common, though differentiated journey through turbulent times in life and art, emerge in the exhibition as highly individualized talents. The curators have taken special care to provide a glimpse of each as a singular personality, by including short passages from their writings. Thus, we read Nikogosyan's account of a chance encounter with a man who bore a remarkable resemblance to Vincent Van Gogh, and whom he joined in a moving tribute to a deceased poet. We read of how Aslamazyan continued drawing literally up to her dying day. "I don't get out of the house now," she wrote in her nineties, "but in any case I get up at eight o'clock every morning and do my exercises, have breakfast and sit down in front of my drawing board. I draw 3 to 4 hours a day, otherwise I cannot live." In this special collection of thoughts, entitled "Davtar of My Life" (2001), she concluded, "That is all; what comes next, I do not know." In the same work, she philosophized: "What would happen if one had no dreams? A dream is the beginning of creativity. A dream is the future."

Armine Kalentz, who exerted a profound influence on her grandson, also recorded her thoughts in a volume entitled, Longing … Valuable Recollections. Armine Kalentz about Herself. In one entry she reflects on the role of the creative person: "An artist is a lucky mediator between God and humanity. He finds the meaning of life in beauty, in that he reflects it in the soul and abandons himself unreservedly to this cause. This striving can also be hard however, when every time, disappointed, it uncovers a truth, and communicates incessantly with death."

A Curse and a Blessing
When Nikogosyan's daughter and Kalentz's son met as art students in Yerevan, they fell in love and married. Their son Archi Galentz is not surprisingly also an artist, who has studied in Russia, Armenia and Germany, his current home. This "artist family dynasty," as critic Michel puts it, recalls similar families, like the Brueghels, Cranachs and Giacomettis. Was this, he asked, a problem for the younger scion of the family?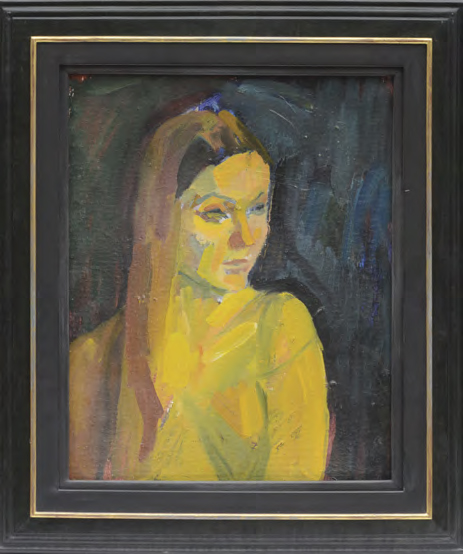 Nikolai Nikogosyan."Smiling Lady" 2005 (Photo by Archi Galentz)


Archi quoted the farmer's adage that says: 'Under a mighty tree no grass grows.' Born into such a family he had to discover himself, find what was truly his own. Through extensive travel, he was exposed to a variety of artistic experiences, yet "the interest in the intellectual heritage of my grandparents stayed with me." He had to come to terms with this past, in a spirit of respect although not without a critical approach. His heritage he considers both "a curse and a blessing": a curse, "because some saw me as privileged, as one who could not rebel against the achievements of his forefathers. Most young people do not know the influence exerted by the generation of my grandparents, who lived and worked in a state in which there was injustice." As for the blessing, this "lay in the fact that already as a teenager I was excited about the euphoria about change taking place in the Soviet Union. And when, from Berlin, I witnessed the collapse, that did not correspond at all to what I had seen in the life and work of my grandparents. So I have been forced to erect my own edifice of ideas, the way archaeologists put together a picture from the pieces of a puzzle."

Archi did not know his grandfather and namesake Harutyun, who died young, but had the advantage of close relations with the others. Grandmother Armine impressed upon him the need to abide by one's own convictions. And he enjoys the invigorating company of grandfather Nikolai Nikogosyan — "still, at an advanced age, a very vigorous person to converse with."

As Kerstin Beurich, District Councilor for Education, Culture, Social Affair and Sports, noted, "Armenian painting is less well known in Germany than Armenian music." This is certainly the case, and not only in Berlin. All the more reason then for such shows to travel to faraway places. It is to be hoped that this exhibition will be invited to other lands, especially those where the artists worked and exhibited, and where there is a large Armenian diaspora community. Would it not be wonderful to host this exhibition in New York and Boston or Los Angeles?

(Note: Quotes have been translated from the German catalogue text by the author.)






---
Turkish-German Relations: Threats, Taboos and Truth
By Muriel Mirak-Weissbach – Special to the Mirror-Spectator, JUNE 16, 2016
BERLIN — As the croupier at the roulette table says, "les jeux sont fait." The die is cast. In the wake of the German Bundestag's resolution recognizing the Armenian Genocide, the hysterical reaction from Erdogan and his co-thinkers has raised the stakes in a risky gamble with political counterparts in Europe, a game that Ankara, contrary to its delusions of grandeur, has no chance of winning.
Bundestag President Norbert Lammert (CDU) was not mincing words when he responded to Turkish President Recep Tayyip Erdogan's intimidating threats against members of the parliament for its resolution on the Armenian Genocide. "That a democratically elected state president in the 21st century," he said on June 9, "could link his criticism of democratically elected members of the German Bundestag with doubts as to their Turkish heritage, and designate their blood as impure, is something I would not have deemed possible." He categorically rejected Erdogan's insinuation that parliamentarians of Turkish background were "mouthpieces for terrorists" and underlined that "anyone who tries to exert pressure on single parliamentarians must know: He is attacking the entire parliament." He added, "We will correspondingly react with all lawful possibilities that are available to us." Lammert said the leaders of all parliamentary parties had asked him to speak out, "to voice our collective position once again, unequivocally."
This time, Chancellor Angela Merkel, who had been absent during the genocide vote, was on hand, and applauded demonstratively along with government and parliament members to signal her endorsement.
In tandem, European Parliament President Martin Schulz, who is a member of Merkel's coalition partner party the SPD, issued his rebuke with comparable forcefulness. In a letter addressed to Erdogan that same day, he repudiated the Turkish leader for having accused freely elected parliamentarians of terrorist sympathies for having expressed their views. "Such an act constitutes a complete breach of taboo, which I condemn in the strongest possible terms." He went on: "As the president of a multi-national, multi-ethnic and multi-faith parliament, allow me to make the following point: the freedom of MPs to carry out their mandate as they see fit is a fundamental pillar of our European democracies." The issue was not only institutional but also personal. Schulz wrote, "A string of the German Bundestag MPs you have personally attacked, but also Turkish parliamentarians affected by measures which you support, are among longstanding colleagues of mine; some of them are very close to me personally. I feel obliged to protect these colleagues wherever I can."
Protection from Threats
The reference to protection was not metaphorical. Quite aware of the causal link that may obtain between threatening words and deeds of violence, the Bundestag members targeted by Erdogan's ire have taken threats seriously. And the government and security agencies have responded with concrete measures. As Interior Minister Thomas de Maizière told the
Frankfurter Sonntags Zeitung
on June 12, "The threats against parliamentarians of Turkish background are unacceptable," adding that \ Lammert had "found the right words for it." De Maizière said security measures would be adjusted correspondingly. "Most of the 3.5 million people of Turkish background in Germany – I want to stress – are good neighbors and an important part of our society," he said. "The criminals and extremists are individual cases."
To take it seriously means to adopt enhanced security measures, like police protection at home and the office, and, if necessary, personal bodyguards. The German Foreign Ministry, according to a Spiegel report, advised against travel to Turkey, due to the heated atmosphere, which might have security implications for them. For those Bundestag members who have dual citizenship, the danger is very real; if they do go to Turkey, they may be arrested at the airport and charged with "insulting the Turkish nation," according to the infamous Article 301 of the penal code. Conviction could lead to a sentence of six months to two years. The mayor of Ankara, who had sent out photos on the internet of the 11 German parliamentarians of Turkish descent, had also stated, "The traitors should be deprived of citizenship."
The decision to upgrade security for those threatened came after a meeting of some Bundestag members from all parties with representatives of the BKA (Federal Criminal Police Office), Berlin police and Bundestag police. They described harassment and threats they had received, from hate mail, insults shouted on the street or from cars driving by. Through "social" media some women MPs were told to seek employment in a whorehouse, others suggested prominent MPs should take a vacation in Buchenwald concentration camp, and similar rot. Some MPs had avoided returning to their election districts over the weekend to keep a low profile. Women MPs had received warnings from neighbors to watch out for their children, some avoided playgrounds or favorite ice cream parlors; family members, whether in Germany or relatives in Turkey, were also bombarded with abusive attack. Cem Özdemir, Green Party leader and initiator of the recent genocide vote, was ostracized by a Turkish homeland club of his father's, according to
Spiegel online
. Özdemir reported getting messages saying "At some point your German friends may forget it, but we won't." Or, more bluntly, "We can find you wherever you are." Citing the judgments of friends of Hrant Dink in Turkey, Özdemir said, "One has to take this damn seriously. So – take it seriously, but don't let yourself be intimidated."
And Turkish Groups in Germany?
If official Ankara responded to the Armenian resolution with threats, slander and preparations for a "plan of action," Turkish social and political groups in Germany had to take a stand. Lammert noted that the Turkish Society in Germany and the Berlin-Brandenburg Turkish Federation had criticized the attacks on MPs as unacceptable. "I would hope," he said, "that also other Turkish organizations in Germany, some of them very big, would also take a stand for the MPs and for our democracy — with similarly clear and unambiguous declarations as they have issued often very quickly and very loudly, in other instances."
Cem Özdemir appealed to these organizations to go on the record. "One does not have to find the [genocide] resolution good: I am ready to answer questions from people. But Turkish organizations have to denounce death threats unambiguously. Here there is no room for two opinions." Addressing these groups' desires for social integration, he said: "Those who want to be taken seriously here, those who want to have religion classes in our schools, they cannot stand on the ground of our Constitution only on their tiptoes."
DITIB, the biggest umbrella group of Muslims in Germany, expressed its "loss of trust" in those MPs with Turkish roots. Representative Zekeriya Altug was quoted by
Zeit online
saying that if its members formerly had felt represented by these MPs, that was no longer that the case. But at the same time, DITIB General Secretary Bekir Alboga denounced the slanders and threats of violence as "illegitimate means to deal with differences of opinion and conflicts in a democratic society." DITIB had cancelled an invitation to Lammert and two MPs to a Ramadan Iftar (fast breaking) during Ramadan, after having received threats.
Then there are those of Turkish background in Germany who have another idea. Turkish-German businessman Remzi Aru launched an initiative days after the Genocide resolution, for the creation of a new Turkish party here. Qualifying the resolution as a massive discrimination against those of Turkish heritage, and warning that all should "beware the beginnings!" he announced that "As of today, there is no German party that a person with Turkish roots can vote for. We are forced to found our own party," as a result. This, he said, would "not be for Turks, not for Muslims, but for all people in Germany in whom this Germany awakens worst memories." The party program draft which is circulating says it stands for a "self-conscious, traditional, but also open, multi-racial, multi-national Germany, which nurtures a healthy patriotism and national pride, instead of falling from one extreme into the other." It calls on Germany to play an equilibrating role in the world, instead of "playing schoolmarm to other countries." Aru has presented himself officially in German talk shows as a supporter and representative of Erdogan's policies.
What European Membership?

What meager success a self-styled party for the Turkish (or Muslim) minority in Germany might reap will be seen when and if the project ever takes off. Whether the proponents know it or not, a significantly large proportion of Germans of Turkish descent have taken this citizenship after having fled here from political persecution, received political asylum and then a German passport. It would be wildly arrogant and just plain wrong to assume that most ethnic Turks or other Muslims in Germany would line up with Erdogan.
Far more relevant is the question, where does Turkey end up as a member of the European club? In short: nowhere. The greatest collateral damage that Erdogan's hysterical outbursts have wrought will be tallied in Brussels. Martin Schulz spoke as president of the European Parliament. He had also said that, when MPs have to witness how "the highest organs of another state" question the guarantees for them as well as journalists and others to act free from repression, "that will not in the long run be without consequence for international relations." The German Foreign Ministry, in discussion with a diplomat summoned from the Turkish embassy, had made clear that the affair was "not compatible" with close German-Turkish relations.
Without recourse to such diplomatic niceties, it can be said without hesitation, that the Mafioso-style theatrics played out by Erdogan have taken Turkey's bid for European Union membership from the back burner to the garbage can. In recent discussion about lifting visa restrictions for Turkish citizens – a demand Erdogan made in the context of the refugee deal with the EU – it was specified that to receive this, Turkey had to accommodate EU conditions on terrorism legislation, among other things. In the wake of the recent horrendous terror attacks in Turkey, it is unlikely that the government will acquiesce.
But, that notwithstanding, European eagerness to welcome Turkey in the club has noticeably waned in the wake of the Ankara-Berlin rift. Again, Cem Özdemir was the one to set the record straight. Complaining that there had been a lack of honesty on both sides, he explained that Turkey had been dishonest, in that it had not introduced the required reforms. "It does the opposite: Turkey distances itself daily from the European Union." But also in Germany, he said, the debate is not really honest. "Honesty would mean saying: With Erdogan, with this policy that Turkey is currently pursuing, there can be no membership." One need little fantasy to imagine that in the 1000–room palace of the Turkish president, there was little understanding, not to mention applause, for Özdemir's pointing to a time "after Erdogan." But, he said what had to be said. And there are few, in Berlin, or Brussels, or elsewhere in Europe who would disagree.
In the last three weeks Turkey's would-be president-for-life has made more political mistakes — too enormous to be dismissed as diplomatic faux pas — than his carefully-orchestrated personality cult can afford. For reasons to be examined in a psychological profile of the man, he is incapable of assessing the impact in the real world of the utterings of his narcissistic, paranoid personality disorder. To wit: among his ravings against Germany after the Armenian Genocide recognition, he accused Germany of hypocrisy: who were they to accuse others of genocide, he raved, when they killed 6 million Jews, murdered Hereros, etc.?
This crossed a line, and one with existential implications for the identity of the German Federal Republic. Chancellor Merkel was quick to respond. She rejected out of hand the insinuation that Germany had failed to come to terms with its past. In the resolution on the Armenian Genocide, she pointed out, it was explicitly stated that Germany recognized the Holocaust as a singularity in history. Germany had officially recognized that there had been no comparable crime in history, and acknowledged its guilt. Not only, she said, had Germany dealt with this past, but it continues and will continue to do so in the future.
As for Erdogan's ravings about German guilt in the Herero massacres, Lammert made clear that it had been addressed and would be on the agenda of the Bundestag again.
Erdogan again had shot himself in the foot. It is not Germany which has declined to face up to its historical past. On the contrary: its years-long critical engagement with the Nazi past, its historical research, its education programs through genocide studies in the curricula, its encouragement of civil society activities, its ongoing process of reconciliation, and so many other aspects, make the German experience exemplary for others. In the specific instance: for Turkey. When will Turkey find the courage to follow suit?
---
Bundestag's Genocide Recognition: A First Step

By Muriel Mirak-Weissbach – Special to the Mirror-Spectator – June 9, 2016
BERLIN — When the results of the vote were announced — all in favor, with only one nay and one abstention – the German Bundestag burst into applause. In the visitors' gallery, rows of Armenians pulled out signs with the message "#Recognition Now says Thank you!" This was clearly a breach of parliamentary rules of conduct, but no one seemed to care. Then an Armenian flag was unfurled, another, more grave breach of conduct. Its bearer was discreetly escorted out of the hall. No matter.
Armenian women wept for joy.
"Finally!" — as Gregor Gysi of the Left Party had lamented during the debate, finally, at long last, the German parliament was declaring its recognition of the Armenian genocide, after years of hemming and hawing and hand-wringing. The news was cause for celebration, and not only for Armenians. Did the text have shortcomings? Yes, to be sure. And yet, the vote was a landmark decision.
The day will be remembered as marking the beginning of a new phase.
Whether it was coincidence or not, June 2, the date of the Bundestag debate, was the date in 1921, when the trial of Soghomon Tehlirian, the assassin of Talaat Pasha, began in Berlin.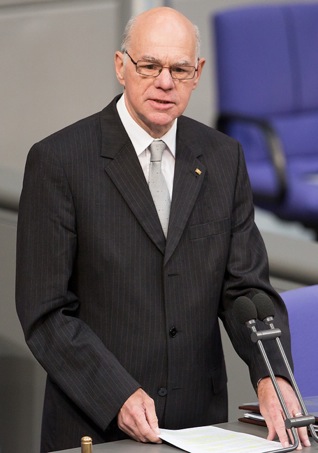 Thrashing out the Issues
Days prior to the vote, the draft resolution had been leaked to the press. Pressures erupted from opposite directions: if representatives of Turkey or Turkish lobbies in Germany warned against passage of the resolution, on pain of undermining or destroying German-Turkish relations, proponents of the move urged the Bundestag to be yet more explicit in formulating its own recognition of the Genocide. In the course of their session on June 2, parliamentarians of all parties addressed these concerns directly before passing it by a near unanimous vote.
After welcoming the many honored guests, including the Armenian Ambassador and Turkish representatives, Bundestag President Norbert Lammert opened the discussion with the categorical statement that "A Parliament is not a historians commission and certainly not a court of law," a point to be reiterated by others. At the same time, Lammert said, the body could not and would not evade uncomfortable issues – like that of the genocide — when the Germans, who were wartime allies of the Ottoman Empire, were also guilty. "We Germans," he said, "know on the basis of the dark chapters in our own history, perhaps even more than others, that dealing with historical events can be extraordinarily painful." Germans, he added, have also been protagonists of such a process of working through the past self-critically and honestly, and have seen that, instead of endangering relations with other countries, it actually makes possible "understanding, reconciliation and cooperation.ˮ Virtually every speaker was to make the same point.
Lammert distinguished clearly between the guilt of the Young Turks for crimes of the past, and the responsibility of Turkey's government today for shaping the future. In response to the rabid protest actions, including death threats that some Turkish groups had delivered against Bundestag members of Turkish background, Lammert declared such threats "aimed at preventing the free opinion on the part of the German Bundestag to be unacceptable." "We will not accept them," he said, "and we most certainly will not allow ourselves to be intimidated by them."
One after another, parliamentarians stepped up to the podium to issue variations on the theme of guilt and responsibility, spelling out the fact that no one was putting Turkey on the stand. The resolution, in the words of Dr. Rolf Mützenich of the SPD, "is no juridical statement of claim," a formulation repeated by Dr. Christoph Bergner of the CDU/CSU. Or, as his colleague Dr. Franz Josef Jung put it, "We are not concerned here with severely criticizing Turkey or putting it on the bench of the accused." Demonstrations are certainly allowed, Mützenich said, but the Bundestag is also allowed to draw its own political conclusions from the debate on genocide, and will not be intimidated.
As if in response to criticism that had been raised in the public domain, that the lawmakers were not making their own recognition and denunciation of the genocide explicit enough, Bergner reflected on the change that had taken place since the centenary commemorations in April last year. At that time, what was primary was commemoration. "But it has become somewhat clearer in this session," he stated: "what in the coalition formerly was disputed, that is, the fact that we can commemorate those events appropriately only if we use the term 'genocide' to describe them." This is the only way to characterize the dimensions of the tragedy and to render justice to the victims. Dieter Nietan of the SPD underlined the same, forcefully: "We want to show the victims of this crime against humanity our sincere respect. If one is to be sincere, one must also say what that was. Thus: A genocide remains a genocide remains a genocide." For Albert Weiler of the CDU/CSU, who is president of the German-Armenian Forum, "We have the historical responsibility to name the Young Turks' atrocities by name and designate them as genocide."
Germany's historical role was a central theme for two reasons. First, because Imperial Germany was co-responsible for the genocide. For Gregor Gysi of the Left Party, Germany "acted as an accessory to the genocide." Cem Özdemir, Green Party leader and leading proponent of the initiative, stressed that the purpose here was not to assume a holier-than-thou attitude, but to deal with it because it "is also a matter of a piece of German history." To document the case, he cited an infamous statement by Imperial Chancellor Bethmann Hollweg, who said, "Our sole aim is to keep Turkey on our side until the end of the war, regardless of whether or not the Armenians as a result are destroyed." And, to substantiate Germany's awareness of the dimensions of the atrocities, he quoted Count von Lüttichau, the church representative from the German Embassy in Constantinople, who reported on the results of the policy in 1918: "In the eastern provinces, that is with the exception of Constantinople and Smyrna and other places in western Turkey, 80-90 percent of the entire population and 98 percent of the male population are no longer alive…. As far as the clergy are concerned, they have been practically exterminated."
Özdemir contended that "the fact that in the past we were accomplices to this terrible crime can not mean that we should become accomplices to the deniers today."
As a corollary to the admission of German complicity — and this is the second reason for highlighting the German role — speakers underlined the valuable lessons of modern Germany's experience in having acknowledged the Holocaust, worked through it historically and reached reconciliation with Israel. While depicting the Holocaust as unique, the parliamentarians offered Germany's post-war experience as a valid precedent for similar processing in Turkey. Virtually every speaker argued that, without recognizing and coming to terms with the past, there is no perspective for reconciliation. In this connection, it was also noted that the fact that genocide occurred under wartime conditions did not qualify or relativize the enormity of the crime. The current atrocities being committed in Syria today, by the same token, cannot be rationalized as collateral damage.
The Power of Truth
Weiler began his intervention with a famous quote by Friedrich Schiller, Germany's national poet. In a lecture at the university of Jena on the subject of universal history, Schiller had said, "The greatest gift that man can give to man is truth." The search for truth was an underlying theme in the Bundestag proceedings, as members, among them Cem Özdemir, pointed to the crucial role of truthful text books and other teaching materials, especially for students at the high school level. The battle to include Armenian Genocide studies in the curriculum in Germany has been being waged for years, and the sad state of available source material in Turkey is notorious.
In this light, it is most fortunate that Dietmar Nietan decided to speak out on this problem in bold terms. He said he was launching "an appeal to all young people, whether Turkish, Armenian, German or other background: Please do not believe everything you are told, what is in your text books, possibly even what we are telling you today in the Bundestag. I ask of you: Make up your own mind. Look through the documents that are available at the Foreign Ministry, which are for the most part in German, because they come from German diplomats. Form your own judgment. Let your heart speak, when you go through these documents and don't let anyone persuade you that those who use the term 'Genocide' want to insult the Turkish people. No, the Turkish people are great and strong, and have no need to hide from their past, but can face it in self-confidence and humility. Fight for this to happen; for that is the right way to do justice to the responsibility that has been imposed on us by our history."
History or Realpolitik?
In their frequent caveats against confusing moral-political judgments of historical fact with preoccupations with daily political maneuvers, Bundestag members were attempting to remove the salt from the soup. Fact is, the issue of genocide recognition has unfortunately become inextricably bound to immediate problems in relations between Germany and Turkey. If there are numerous plausible explanations for the continuing procrastination in Berlin on recognizing the genocide, the most obvious is the fear that it would jeopardize relations with Ankara, not only in routine diplomatic niceties, but that it could upend the EU agreement made to regulate the flow of refugees to (especially) Germany. The fear was not ungrounded, as President Recep Tayyip Erdogan intimated that any such move on the genocide issue could unravel the deal. He warned of a worsening of "diplomatic, economic, business, political and military relations." Both he and his new Prime Minister Binali Yildirim, who called the resolution "ridiculous" and "a total fabrication," called German Chancellor Angela Merkel on the telephone two days before the vote, to complain. (Erdogan would later claim that Merkel promised him she would block the passage by ordering her faction to vote NO, much in the same fashion he would order his party to vote this way or that. His version of the facts is unlikely, given that Merkel voted for the resolution in an internal faction vote prior to the Bundestag session.)
When the measure passed, Ankara responded in predictable fashion. Foreign Minister Mevlüt Casvusoglu called the resolution "irresponsible and unfounded," government spokesman Numan Kurtukmus said it was "null and void," Erdogan, at the time on an Africa tour, threatened "serious" consequences. The Turkish ambassador was recalled from Berlin and the Foreign Ministry ordered the German Embassy to send its diplomat in for a calling down.
Turkish press reactions were graphic. As picked up by German media, a critical paper
Sözcü
sported a picture of Merkel as Hitler, with a banner headline "Shame on you!" followed by the text: "Hitler's grandchildren have accused Turkey of genocide. Germany, which committed genocide in World War II, massacring 6 million Jews, and which has prepared the way for our children to be martyred by delivering weapons to the PKK, has ratified the so-called Armenian genocide. We are furious!" Their fury, according to German press commentaries, was directed also at Turkish politicians for failing to stop the vote. Then Sabah, recently turned into a government mouthpiece, wrote, "Our brother-in-arms has stabbed us in the back," whereas
Hürriyet
asserted that it was the German-Turkish friendship that had been subjected to genocide.
Cumhuriyet
spoke of "The Loneliness of 1915," in that Erdogan and the AKP had "lost another diplomatic war."
It seemed as though Yildirim were back-stepping on June 3, when he called on Berlin to "repair potential damage," and indicated that there would not be a total break in ties. That same day, the Turkish parliament swiftly passed a resolution rejecting the Bundestag's move, alleging that it was based on "unfounded Armenian mootings." Then Erdogan escalated tensions in a speech given on June 5 at a private university in Istanbul. Germany, he said, "was the last country," that should talk about "so-called genocide," given its guilt for the Holocaust as well as the extermination of the Herreros.
Most serious was the tone and thrust of remarks he made the evening before, with regard to the German Bundestag members of Turkish background, whom he accused of being pro-terrorist. "It is well known whose mouthpiece they are," he was quoted by Anadolu. "They are the long arm in Germany of the separatist terror organizations in this country," with reference to the PKK. In his Istanbul speech, he reportedly targeted Cem Özdemir (without naming him). "Along comes a smart aleck," he said, "and prepares something that he proposes to the German parliament. A Turk, some people say. Oh, what Turk. Their blood ought to be tested in a lab." According to the German paper Welt Justice Minister Bekir Bozdag from the AKP sent a Twitter message on these parliamentarians: "People with such bad [sour] mother's milk, with such bad blood, could never represent the Turkish nation." The same source reported that Ankara's mayor Melih Gökçek made a mock-up wanted poster with the mug shots of the eleven parliamentarians, which circulated widely in copies and on the internet, where users called for violence against them.
The parliamentarians are taking this seriously. Özcan Mutlu from the Green Party, told TV viewers on June 5 that he feared for his life, since "This quality [of threat] I have never experienced." The danger is that some crazy nuts, hearing this talk, think that they've gotten some orders from above. "This way so many people have been killed in Turkey," he told a German TV news program. As for Cem Özdemir, the main culprit according to Erdogan, he has reportedly been in discussion with German security officials, and his residence is under heightened observation. "Unfortunately, he told Welt, "there is also a Turkish Pegida," referring to a group in Germany known for its racist, xenophobic views. "Right extremism is not a German privilege. It exists unfortunately also in Turkey and among German Turks." Özdemir often draws a comparison between Turkey and Germany, as far as personal security for a political dissident or critic is concerned. Here in Germany, he said again in the June 2 session, he has no need to fear being persecuted or killed for his political positions.
Erdogan Caught in a Bind
It is to be hoped that Ankara's escalated political rhetoric will not be translated into acts of violence, and that German political figures like Mutlu, Özdemir and others, whatever their ethnic background, may continue to enjoy their constitutionally guaranteed rights to free speech and political action in a climate free of fear. No matter what the threat level, the German political establishment will not vacillate.
And the future of the Turkish-German relationship, often cast as the Merkel-Erdogan duo? Considering the psychological parameters of Erdogan's personality disorders, anything is possible; he could pursue his narcissistic fantasies and thereby place his government's and his country's relations with Germany and the EU in peril. Or, the vestiges of rationality may persuade him to accept certain facts of life: that, as Mideast expert Rainer Hermann has editorialized in the
Frankfurter Allgemeine Zeitung
, Turkey needs Germany as much as Germany needs Turkey. For all his blustering threats to break relations, Erdogan must know that without the partnership with Germany, his country's economy would be devastated, foreign investments and trade would collapse (not to mention tourism); with a deteriorating economic situation, his political base would shrink and with it, his dreams of becoming the all-powerful president-for-life. In short, although it is painful for an autocratic personality to admit, he is not his own political man. It may be that he cannot live with an Angela Merkel who endorsed the genocide resolution, but it is 100-percent certain that he cannot live without her — or Germany.
(Note: All direct quotes have been translated from the German by the author.)