Unless otherwise indicated, the articles here and in the
Archive
appeared on
www.globalresearch.ca
---
Politics, Polemics and Reading Pleasure in Frankfurt
By Muriel Mirak-Weissbach
– Special to the Mirror-Spectator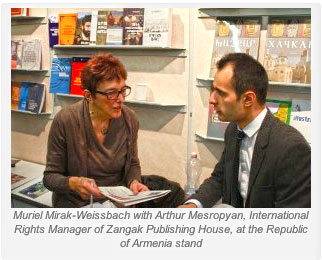 FRANKFURT, Germany — OCTOBER 27, 2016 – For an author, a visit to the annual Frankfurt Book Fair can be a humbling experience. When you enter the massive fairgrounds, where over 7,000 exhibitors (among them your own publishers) from one hundred countries have come to put on proud display their latest productions — about 400,000 (!) new titles — it tends to put things into proportion, so to speak, and you ask yourself what, if any, place your own modest achievements might find in this immense literary universe. If you happen to be working on a new book, the challenge is overwhelming.
But that is a highly personal viewpoint and, as such, of limited value. In broader terms, for writers and readers alike, Frankfurt, the biggest and undeniably most important book fair in the world, is the stage on which burning political issues are thrashed out in dozens of appearances by authors discussing their new releases.
This year was no exception. The target of critical debate was writers' freedom — or lack thereof — in Turkey.
Writers Speak Out from Exile and Jail
At a press conference to present the German translation of his new memoir, We Are Arrested: A Journalist's Notes from a Turkish Prison, Can Dündar cast the spotlight on the plight of countless colleagues, journalists and book authors thrown into Turkish prisons for the crime of having spoken their minds. He called on participants to "Stand by us, the other Turkey," while expressing his disappointment with governments in the West for their failure to address Turkish president Recep Tayyip Erdogan whose government has "imprisoned thousands, including hundreds of writers and journalists" and has "effectively ended freedom of speech as we know it." And Elif Shafak, in discussion of her new book, Three Daughters of Eve, lamented the fact that people in Turkey have become "an angry people." Regarding the situation there, which she called a "disgrace," she said she was "very depressed," adding that it was the aggression and patriarchy of a male-dominated society that was responsible for these developments. "I'm sad," she said, "but I do have hope, that countries with a Muslim majority can also improve their democracy and that different ideas can live together in peace."
Even representatives of official institutions in the host country addressed the issue of intellectual repression in Turkey. So explicitly, in fact, that German press accounts identified this as the leading theme of the fair. Heinrich Riethmüller, head of the German Publishers and Booksellers Association, raised the issue in stark terms at the opening. He read from a letter by author and co-publisher of a Kurdish newspaper, Asli Erdogan, which had been smuggled out of prison: "I cry out to you from behind stones, concrete and barbed wire," she had written. "Conscience is being trampled upon in my country… They are trying to kill off Truth. And even if I do not know how," continued her letter, "but still, literature has always succeeded in overcoming dictators. Literature that we are writing with our own blood; this, for me, is the truth."
Riethmüller commented, "For us, freedom of speech is a human right and is not negotiable." But, he added, "politicians are maintaining silence." They see what is going on but do not act. And Martin Schultz, president of the European Parliament, declared his "full solidarity" with "all authors and journalists languishing in Turkish jails" and with an online petition calling for their liberation. Addressing Turkish President Recep Tayyip Erdogan, Schultz said, "Let these people free."
To appreciate the enormity of the catastrophe that has descended on Turkey, one must recall that just eight years ago, in 2008, Turkey was the celebrated guest of honor at the Frankfurt Book Fair. Among the writers representing the optimism in the democratization process at the time were Orhan Pamuk, Elif Shafak and Asli Erdogan.
The Ottoman Reflex
The response of official Turkey, which was present, as always, with several large stands and plenty of books to have for free, was not terribly nuanced. Among the complimentary copies this year was a little volume on the July 15 coup attempt, presented as a "massacre" that the West observed with "tolerance," and which Turkey survived, "bitter-sweetly." When Karen Krüger, a journalist for the Frankfurter Allgemeine Zeitung who has followed Turkish developments over years, asked the person at the Turkish stand if works by those writers arrested since July 15 were also available, he answered that, as an employee of the Ministry of Culture, he was not authorized to say, but assured her that everything would be dealt with in a round table discussion scheduled on the topic, "Democracy and Culture." As Krüger reported in the FAZ, participants in the round table discussion could only offer platitudes about the positive role of literature in opening doors to understanding and to democracy. Otherwise, she noted, what dominated in the event and the official stand were books, historical photographs and paraphernalia exalting the glories of the Ottoman era. This she sees as a reflection of what is happening in Turkey: "The birth of a self-styled Turkish-Islamic state, which would like to wipe out from cultural memory the humiliation of the collapse of the Ottoman Empire through the exaltation of 'forgotten victories' and whose founding myth will become the resistance of the people against the coup attempt."
And Armenia?
Elsewhere in the same huge exhibition hall was the Republic of Armenia stand, of considerably more modest dimensions, and happily free from any protest or polemics. Leading publishing houses, like Antares, Zangak and Yerevan State University press, joined with the ARI literary Agency and the 1st Armenian Literary Agency, to present new titles in Armenian as well as Armenian works in translation. If 1,500 books are published annually in Armenia, this is in part thanks to support of the Ministry of Culture; about half that number were published in the last five years with ministry support.
Translation plays a central role in Armenian publishing and here the Ministry of Culture is key, with its Translation Support Program to encourage knowledge of Armenian works abroad. Since 2011, Armenia has hosted an annual "Literary Ark" international festival, where writers, literary experts, critics, journalists and literature lovers from all over the world come together, usually for 10 days, to discuss cultural and social-civil issues and contribute to a bilingual publication (in Armenian and many of the other languages) containing contributions in poetry or prose by the participants.
The festival was conceived in 2001 by the Armenian Public Organization of Cultural Cooperation with Foreign Countries, and is implemented with the support of the Ministry of Culture. Participants have come from many European countries, both east and west, as well as the US and Canada.
About 100 writers from 40 foreign countries have visited Armenia in the context of this festival. Then there is the Armenian Literature Foundation, founded in 2012, which is dedicated to promoting translation of Armenian works into other languages, and its representatives participate in international book fairs for this purpose.
The Armenian publishers exhibiting in Frankfurt represent a variety of fields and specializations. Antares Media Holding, for example, produces children's books, scientific, world literature, encyclopedias, anthologies, as well as classical and modern literature, especially Armenian modern literature. Among its series is the Complete Shakespeare, which includes 39 volumes representing the first complete translation of Shakespeare's works. The LAC (Literature, Art, Culture) series focuses on works in these fields, both Armenian and international.
The leading academic publisher in Armenia is the Yerevan State University Publishing House, established in 1920 by the authorities of the first Republic of Armenia (1918) who founded the university. The salient feature of this institution's editorial activity is the production of dictionaries, not only simple language reference books, but also philological works. Thus they have published a Dictionary of Armenian Root Words, a Dictionary of Toponyms of Armenia and Adjacent Regions, an Explanatory Dictionary of Synonyms in the Armenian Language, a Dictionary of Middle Armenian. There are also dictionaries of names of plants in several languages, as well as bilingual dictionaries of Armenian and English, French, Latin, Indian (Hindi), Greek, and so forth. In addition to language-related works, the YSU Publishing House has also issued works in history; on the centenary of the genocide it published numerous books on the subject, and other works on the occasion of the 25th anniversary of independence.
Zangak Publishing House, which has been active since 1997, plays a leading role in producing educational materials, textbooks, manuals, literary and scientific journals. As Arthur Mesropyan, their International Rights Manager, explained to me at the Frankfurt fair, Zangak has been paying special attention to young readers, between the ages of 13 and 18. Finding appropriate literary works for this age group, he said, is particularly important, because young adolescents need good literature to deal with the new challenges they face, whether in social relationships, school activities or family life. Here in Frankfurt, Mesropyan said he had held 30 meetings with other publishers, in search of works to translate. He received a whopping 200 new titles, which now have to be carefully studied, so that the most appropriate can be selected for translation into Armenian.
Zangak had a number of beautiful new books on display, many of which exist in several language versions. For example, a richly illustrated book entitled Disaster David, is in Eastern Armenian, but the text I saw was in English and there exists yet another in French. Other illustrated books for young readers include The Blue Fox written and illustrated by Lilit Altunyan, and My Granny Tamtimaria, by Naira Yedigaryan. A special treat are the books for children that present not only texts but also artistic materials and models with which young readers can create their own versions of the characters, in modeling clay; "besides reading the favorite tale," the catalogue explains, "children can also make the figures themselves, which will develop their thinking, imagination, talent for making things, and will reveal their artistic skills." This series includes Modern Tales by Armenian writers, Tales by Hovhannes Tumanyan as well as Classic Characters by the same author, and Foreign Tales, with pieces from German, Chinese and Persian folklore. For a scientific community as well as the general public, Zangak has presented historical accounts, 10 Outstanding Armenian Queens and 10 Outstanding Armenian Kings. Modern novels and other fiction are also well represented, Mesropyan said, citing their Armenian versions of Harper Lee's To Kill a Mockingbird, Khaled Hosseini's And the Mountains Echoed and The Kite Runner, as well as Dan Brown's Inferno.
---
Friendship Between the Rhine and the Arax
By Muriel Mirak-Weissbach – Special to the Mirror-Spectator
DRESDEN — OCTOBER 20, 2016 – Germans celebrated national unity on October 3, not only in Dresden but also in Yerevan. Most appropriately at the center of the festivities was the presentation of a new publication detailing the history of German-Armenian relations. Entitled Between the Rhine and the Arax: 900 Years of German-Armenian Relations, the volume published by TIGRAN METS in Yerevan, is the Armenian translation of a work issued in German in 1988, by Enno Meyer and Ara J. Berkian. Lisa Berkian-Abrahamian fulfilled her late husband's desire by translating it into Armenian.
The aim of the authors was to provide new insights into the almost one thousand years of relations so as to deepen reciprocal understanding and remove prejudices. Especially in the second part of the book which deals with the modern era, significant source material from German archives appears for the first time in print.
The relations, though intense, have not always been easy, and the role of the Great Powers in determining the fate of the Armenians – that "betrayed people" as Fridjof Nansen put it — has been complex and problematic, especially in the course of the two world wars that scarred the 20th century.
Part one traces relations from ancient times to 1922 and part two covers the turbulent years thereafter up to 1988. The story begins in 1071, when Armenian Archbishop Gregor was given refuge in Passau, as he fled Seljuk persecution. The account references the fact that the wife of Otto I, Empress Theophanu (955-991) was Armenian, and that Armenian architecture left its mark in Germany and Europe more broadly. In the Crusades, relations reached a highpoint, and Armenians were rewarded for their service by Emperors Frederick I Barbarossa and Henry VI with the elevation of their barony in Cilicia to a kingdom. Levon received his crown as King of Armenia, "by the grace of the Holy Roman Empire of the Germanic Nation" at the hands of Archbishop Conrad von Wittelsbach. Later, in the 17th and 18th centuries, Armenians again served German interests, functioning as secret agents for the Austrian general staff during the siege of Vienna. There were plots to enlist German aid to liberate Armenia from Asiatic rulers that came to naught, but Armenians fleeing from the Turks did receive help from Emperor Leopold I and Empress Maria-Theresia to settle in Transylvania.
On the cultural level, it was largely German scientists and intellectuals who delved into study of Armenian language and culture, from Friedrich Parrot and Heinrich Hübschmann, to C. Lehmann-Haupt and Josef Strzygowski. By the same token, many leading Armenian intellectuals were graduates of German universities, among them Abovian, Komitas, Shant, Issahakian, Mahokian, Sureniantz and Kodjoyan.
The good relations entered a crisis in the First World War, as Imperial Germany allied with the Ottomans. The authors do not accuse the German government of involvement in the genocide and point to documented cases in which Germans protested the deportations and massacres, not only among humanitarians like Johannes Lepsius but also some military personnel.
In the post war period leading into the Nazi period and World War II, the relations became even more complex. Following the betrayal of Armenian national aspirations by the Great Powers, diaspora Armenians faced the rise of Nazism in Germany. They escaped racial discrimination because they were classified as "Aryans." With the outbreak of conflict between Germany and the Soviet Union, the authors report that most diaspora Armenians in Europe sided with Germany and many joined the Armenian Legion in 1942 under Colonel Stauffenberg (who later attempted to assassinate Hitler). If there were, according to the authors, 30,000 Armenians in combat, there were another 800,000 former Red Army soldiers and 100,000 Scandinavians also working with Germany. If the calculation on the part of the Armenian military-political leaders was that such an alliance would protect their country, once freed from Stalin's dictatorship, from Turkish threats, for the Germans a strong Armenia could be used to thwart pan-Turanic expansionist ambitions. That said, the authors report that the majority of Armenians, numbering 350,000, fought on the Soviet side, including in command positions. Significant new source material for this modern period comes from German and Armenian newspapers.
Finally, the post-war developments are of a happier nature. The German-Armenian Society was revived and with it a new chapter in relations between the two nations and peoples was opened in the economic, political and especially cultural realm.
At the festive event in Yerevan, translator Lisa Berkian-Abrahamian and editor Davit Mkr Sargsyan presented the book, excerpts of which were read by actress Gayane Samvelyan. The celebration gathered numerous scholars, historians, journalists, literary critics and linguists as well as many illustrious guests, from Minister of Culture Armen Amiryan, Deputy Minister Nerses Ter-Vardanyan, Head of the Department of Culture at the Yerevan Municipality Ruben Hovhanissyan and German Ambassador Matthias Kiesler. The director of the Avetik Isahakyan Central Library, where the event was held, and honored cultural figure Hasmik Karapetyan presided and congratulated the Minister of Culture on assuming office as well as the German diplomat on unification.
(Material for this article was provided by translator Lisa Berkian-Abrahamian and Armenian press releases.)
---
Little Singers, Great Promise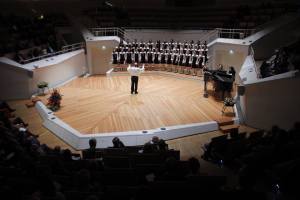 By Muriel Mirak-Weissbach
BERLIN SEPTEMBER 29, 2016— What better way to celebrate 25 years of independence? The Armenian Ambassador to Germany Ashot Smbatyan chose to focus on the achievements of the present and the hopes for the future, by inviting guests to a concert of the Little Singers of Armenia. Performing in the Berlin Philharmonic hall, a group of 40 youngsters, mainly girls, under the direction of founder and conductor Tigran Hekekyan, presented a program of works illustrating the entire span of centuries of Armenian music, as well as pieces from the international repertoire.
Starting, appropriately, with Glorious Light by Mesrop Mashtots from the fifth century, and two pieces by Komitas, the choir sang both sacred and secular music, from David Halajian, Vahram Sargsyan, Tatul Altunyan and Robert Petrosyan, to David MacIntyre, Claude Debussy, Sergey Pleshak, Richard Adler/Jerry Ross and Joe Garland. A beloved German folk song, performed impeccably in the original, enchanted the listeners.
Following the first six songs, Smbatyan delivered greetings to the guests, who included members of the German Bundestag (Parliament), Berlin Mayor Michael Müller, foreign diplomats, Archbishop Karekin Bekdjian, Primate of the Diocese of the Armenian Church in Germany, Armenian scholars Prof. Armenuhi Drost-Abgarjan and Prof. Tessa Hofmann, German-Armenian Society President Dr. Raffi Kantian and other representatives of the Armenian community.
In evaluating the first quarter-century of independence, Smbatyan did not sidestep the difficulties encountered, especially at the outset, under conditions of military conflict and economic deprivation, but stressed the significant achievements in the economic, political and cultural arenas. While Armenians cherish their national identity, they are open to the rest of the world, a fact demonstrated, he said, by the republic's having welcomed 20,000 Syrian refugees into their country.
Speaking on behalf of German Foreign Minister Frank-Walter Steinmeier, who, together with his Armenian counterpart Dr. Edward Nalbandian, had organized the festive event under their patronage, was Bundestag Member Dr. Gernot Erler (SPD). In his congratulatory remarks, Erler paid tribute to Armenia, which, "as the jubilee concert shows, can look back on a long tradition as a cultural nation," and thanked Smbatyan for having organized the "days of Armenian culture" in the German capital on this occasion. Armenia, he noted, "reaches thousands of years back into the past" and, "with the elevation of the Christian faith to state religion in the early fourth century, it became the oldest Christian nation on earth."
Turning to the long history of German-Armenian relations, Erler expressed how "painful" it was to see the dark sides of this common past, citing the "ignominious role" played by the German Empire during the genocide, when the Ottomans' wartime ally looked the other way as the catastrophe occurred, a catastrophe, he said, "which has naturally left traces also in Armenia's cultural life." He referred to the example of Komitas Vartapet, who "lived here in Berlin for eight years, composed German music too and earned his degree in 1899." On return to Armenia, Komitas collected old church and folk music, thus becoming "the savior of Armenia's musical tradition." On April 24, 1915 he was among those deported and, though he barely escaped death, never overcame the trauma.
To illustrate German-Armenian relations, Erler pointed to Johannes Lepsius, who brought the news of the massacres to the attention of the German public, and whose home in Potsdam today serves as a forum for study and remembrance, as well as an international meeting place. Erler said that it was also in light of Germany's "co-responsibility" that it urges both Armenia and Turkey to seek ways of processing their common history, in the search for reconciliation between the two societies. This may be possible, he suggested, through confidence-building measures undertaken by representative personalities, who could meet "outside the limelight." In this context he said culture could contribute significantly, through the universal language of music, for example. This is the reason the German Foreign Ministry supports the "Aghet" concert project initiated by Marc Sinon and the Dresden Symphony, engaging musicians from Armenia, Turkey and Germany in works dealing with the massacres.
Erler lamented the fact that the South Caucasus today should be torn by military conflict: "In a region where for centuries a unique variety of diverse cultures not only coexisted peacefully but enriched each other, too often still it is the weapons that speak and drown out the gentle tones of the duduk." In the crisis situation around Karabach, which Erler considers "perhaps the most difficult conflict in the Caucasus, flaring up again and again," Germany aspires to play a constructive role. "We want — especially in our role this year as current chairman of the OSCE [Organization for Security and Cooperation in Europe] — to contribute to de-escalation, yes, to overcoming the conflict, and we support the mediation efforts of the co-chairmen of the so-called Minsk Group of the OSCE, namely France, Russia and the USA." Perhaps, he mooted, culture could play a role, perhaps musicians from all three Caucasus nations could perform together in Berlin. Erler is actively engaged in diplomatic efforts in the region, in his capacity as Coordinator for Intersocietal Cooperation with Russia, Central Asia and the Eastern Partnership Countries (which include the South Caucasus).
After having spoken so much about music, Erler said it was time to return to the concert, and hear the "great Little Singers of Armenia." In the second part of the performance, the choir overwhelmed the audience with its precision, fine interpretation and sheer joy of signing. Hekekyan's selection of encores was pertinent. First came Stepan Shakaryan's Mush, then Let There Be Peace on Earth by Sy Miller. While singing, the choristers moved down from the stage one by one and into the hall, through the aisles, and distributed small bouquets to guests.
On a more personal note, during the reception and buffet that followed, my friend Bea Ehlers-Kerbekian and I had a chance to chat with three girls from the choir. All of them were 16, which means they were born almost 10 years after independence. One of them has been singing with the choir (which was founded in 1992) since she was 4 years old. When we asked them what they wanted to become, one said she would study medicine, the second would become a computer programmer and the third wanted to pursue a career in teaching. Abris!
---
Jailed Writer, Linguist Nisanyan Receives Saroyan Medal from Armenian Diaspora Ministry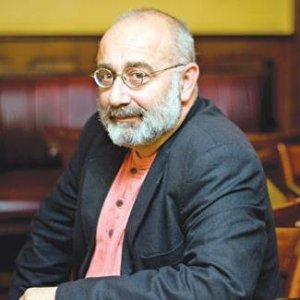 ISTANBUL (Aravot) SEPTEMBER 29— On September 23, the Cezayir complex in Istanbul hosted the ceremony awarding Istanbul-based Armenian intellectual, philologist, writer and publicist Sevan Nisanyan's family the William Saroyan Medal of the Diaspora Ministry. Renowned political, public and cultural figures were invited, including Turkish lawmaker Selina Dogan with her husband Erdal Dogan, President of "Anadolu Kültür" foundation Osman Kavala, Ufuk Uras, Armenian representative of the Black Sea Economic Cooperation Arsen Avagyan. The event was moderated by journalist Hrant Gasparian.
Nisanyan was handed a cumulative jail sentence of 16 years and 7 months after making the fatal mistake of using mocking language about Muhammad, the prophet of Islam, in a blog entry on September 2012. He has been held in a maximum-security Turkish prison since January 2, 2014. He will not be eligible for parole until 2024.
The event covered several speeches, among others, also Selina Dogan and Nisanyan's lawyer, Ergin Cinmen. Member of Parliament and president of the Veradardz Foundation, Aragats Akhoyan handed the medal to the lawyer.
Cinmen mentioned in his speech that Nisanyan is the only person who was accused of allegedly carrying out illegal construction, while the true reasons are different, he was convicted of being a courageous Armenian. He emphasized that not only the country's Minister of Justice is responsible for the imprisonment of Nisanyan but also the highest instances and the human rights activists.
Since Nisanyan's mother, Sona Nisanyan, was unable to physically attend the event, she had sent a video message. She expressed her joy and regret: "I wish he were with us this day."
On this day, in defense of Sevan Nisanyan , also messages were sent by Aram Hamparian, Executive Director of the Armenian National Committee of America, and historian Dr. Tessa Hofmann.
Akhoyan mentioned in his speech, "Today, we are here to award a freedom-loving person a medal of another freedom-loving thinker carrying the name of William Saroyan. Therewith, the Ministry of Diaspora duly appreciates Sevan Nisanyan's nation-devoted activities, which is totally a blind devotion to the preservation and development of Armenian preservation, the language and the culture."
Nisanyan has used his rich experience and knowledge in service to the solution of global problems. This is evidenced by his Book of Small Hotels, Genealogical Tree of Words and a number of other works.
The noted linguist has a great contribution to the studying and development of Turkish language. His fundamental work, A Genealogical Dictionary of the Turkish Language, is unprecedented in Turkish history.
---
No Holiday for Erdogan
By Muriel Mirak-Weissbach
On October 3 Dresden hosted the celebrations for the Day of German Unity, the reunification that was forged in 1990. Bundestag president Norbert Lammert expressed optimism and pride that "We are living together today in a way that generations before us could only dream of: in unity and justice and freedom." A day later prosecutors announced a decision that made clear that "freedom" includes freedom of speech and opinion, freedom of the press and of artistic expression. It was not a good day for Turkish president Recept Tayyip Erdogan. The case in question concerned comedian Jan Böhmermann, who was under investigation for having criminally insulted a foreign head of state (Erdogan) in a satirical poem that he read on television six months ago. The state prosecutors ruled that the case against him should be dropped on grounds that "punishable deeds could not be proven with the required certainty." They stressed that it was questionable whether or not the so-called smear poem constituted an insult; to be an insult, one would need to have "the expression of a degrading, personal value judgment regarding a third party." Böhmermann's poem, which was full of vulgar language referring to sex with children and animals, as well as clichés about Turks, was – as he explicitly presented it to his TV audience – an example intended to demonstrate the difference between satire, which is lawful, and slander, which is not. (It goes without saying that he was illustrating the difference between Germany and Turkey regarding press freedom.) The prosecution accepted this concept, arguing that, in context, the contested phrases were so "exaggerated and absurd" that no one could seriously think of them as critical of Erdogan, or as "seriously intended" to apply. Rather, the satirist had made clear that "it was a joke." Mr. Erdogan was not among those laughing. Although this case has been dropped, the Turkish president still has a personal libel suit he brought against the comedian, which will go before a Hamburg court in November. The same day the legal decision was announced, seven members of the German Bundestag left for a three-day visit to Turkey, including to Incirlik, the air base where 250 German soldiers are stationed in support of anti-terrorist (anti-IS) activities in Iraq and Syria. After the Bundestag passed a resolution on June 2 of this year, recognizing the Armenian genocide, Turkey refused to allow parliamentarians to visit the troops – though it is by the parliament's decision that they have been deployed there. Although the government spokesman Steffen Seibert had stated that such resolutions are not legally binding, Berlin did not back down. Karl Lamers, a member of the government coalition party CDU who is leading the delegation, defended the genocide resolution; as reported by Spiegel Online, he said the Bundestag naturally had "the right to express itself in important questions. This is what we did, and we stand by it." He added that he hoped this trip would contribute to relaxing tensions between the two governments. Visiting parliamentarian Rainer Arnold, from the government coalition partner SPD, said the renewed permission to visit Incirlik now had not been bought by any compromise on the Armenian issue, saying, "The government cannot distance itself from the parliament on content of issues, and it has not done so." Rather it had "declared that a resolution has the function of a resolution and represents the opinion of the parliament." Arnold also hoped the visit would improve relations, even with a "difficult partner" in the interests of prolonging the mandate for the military deployment which runs out at year's end. The Bundestag is expected to approve the prolongation – on condition its members be allowed freedom of travel — to visit Incirlik.
---
German Government Sees Erdogan Support for Islamist Militants
By Muriel Mirak-Weissbach
Special to the Mirror-Spectator – AUGUST 19, 2016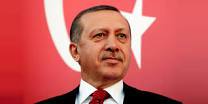 BERLIN — Rumors, reports and allegations pertaining to covert support for terrorists by Turkish President Recep Tayyip Erdogan's government have circulated since the first armed Syrian groups convened in Turkey, in the early stages of the Syrian crisis.
In late 2015, the Saudi connection was exposed in the German press; it was not only the Wahhabite ideology but also direct military support that came to light. In the December 12, 2015 issue of the Armenian Mirror-Spectator ("Friends of ISIS – First in Riyadh, Now in Ankara?"), I reported on this coverage and suggested that the case of Turkey should also be put under the magnifying glass. In recent weeks, the issue has crept into the newspapers in background features and commentaries. Now, according to a press report by the German television channel ARD in its online edition, it appears that the German government has officially expressed the view that active cooperation with such organizations in the Middle East has been part of a conscious policy on the part of Ankara.
The news was released on radio and online publications on August 16, and cited the Berlin office of ARD-Informationen, the first national television station, as its source. ARD reported on a written reply by the federal government to a parliamentary question posed by the opposition Left (Linke) Party, a reply that was classified as confidential and not intended for publication. "The numerous solidarity events and support activities for the Egyptian Muslim Brotherhood, Hamas and armed Islamist opposition in Syria on the part of the governing party AKP and President Erdogan underline their ideological affinity to the Muslim Brothers," according to the document quoted by ARD. As it notes, this would be the first time that the German government has officially acknowledged a direct link between Erdogan and such organizations.
According to ARD, the Turkish government deliberately intensified these relations over time. In the leaked document one reads: "As a result of the progressively Islamized domestic and foreign policy that Turkey has followed especially since 2011, it has developed into the central action platform for Islamist groups of the Near and Middle East region." Again according to ARD, this government view rested on an evaluation of the German Intelligence Agency (Bundesnachrichtendienst-BND). The Interior Ministry, according to ARD, did not coordinate the reply with the Foreign Ministry, and it was not intended to be made public. It does stand however as an official government position.
As of this writing reactions from Ankara have not yet appeared. But one should prepare for fireworks.
(— Note: Translations from German are those of the author.)
---
A Special Light Shines through Art
By Muriel Mirak-Weissbach
Special to the Mirror-Spectator – AUGUST 18, 2016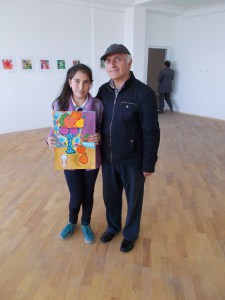 GUMRI, Armenia — When artist Hakob Hovhannisyan returned to Armenia in 2008, after having lived and worked for years in St. Petersburg, he started looking for a place near his native Gumri to set up his studio. Among the many locations he surveyed was Gusanagyugh, a small village about 20 kilometers outside Gumri. It was the particular quality of light that fascinated him; in the morning hours it had one color and mood, at noon, quite another, and as afternoon faded into evening, further nuances emerged and the properties of light underwent further mutations. Convinced that this was where he had to settle, he found a small house that served as both home and studio: a kitchenette, one sitting room with a bed, heated by a small wood-fired stove, and a second room, his atelier, full of paintings.
To paint outside in the magnificent natural surroundings, he would pack his painting materials into a cart, equipped with an umbrella (in case of rain) and a large case containing his paints and brushes. Hauling the cart by its long handle, Hovhannisyan would venture out into the vast countryside, select a landscape, place a canvas on his easel and begin to paint. No sooner had he traced a few brush strokes than he noticed he was no longer alone. By ones and twos, then in swarms, children would approach and surround the painter, awestruck by what was the magic of creativity. With wide eyes and gaping mouths, they would stand or sit and stare, following every magic stroke of the brush with fascination. They considered him a miracle maker.
For the outdoor artist, who soon became known as the "hunter of the last light," it was obvious that the children should have the chance to paint themselves. Through discussion with the local village school authorities and an initiative called "Gallery 25," an art class came into being, and was officially opened on March 1, 2013. The secondary school, with eight grades, now also offers music and dance classes to the local children.
The classroom for art lessons on the first floor is spacious, its large windows let in a flood of light — in all its fascinating variations. Paintings fill the walls and easels, with subjects ranging from everyday events — mother ironing clothes or baking lavash, children playing soccer, girls playing with kittens — to reminders of the political social reality — men in military uniform patrolling the border area, scenes with the Armenian flag flying — to illustrations of fairy tales or folklore events, like the fire dancing. Hovhannisyan never tells his pupils what to paint, or how to paint, but rather shows them the basics and urges them to paint what they have in mind, what they know from daily life or what they can imagine. The school places great value on the education and maintenance of the child's individuality. Judging from the high quality and considerable quantity of works produced, the children have no lack of creative imagination.
These children also have the opportunity to create and expand their own world through visits to art galleries, museums and other cultural centers. They come into contact with the works of well known artists thanks to films and stories. Master classes are available, and the pupils have the chance to meet extraordinary personalities, also through excursions and hike in Gusanagyugh and other interesting locations.
Following the example of the man who inspired the children, the "Suns of Gusana" program enables them to paint outdoors as well. In the village itself there is a wealth of archeological remains which may provide inspiration. Based on the remains discovered there, it is thought that the village dates back to the first century, and a small castle shows that it was once a royal residence. Two castles originate in the Urartian period, one of them known as Akayablur. There are numerous ancient graves, traces of gigantic buildings, the Church of St. Astvatsatsin from the 11th century and other monuments.
The village takes its name from the bard Nakhshikar Sargis, who once resided there. In fact, the word "gusan" means bard or minstrel in Armenian. (Minstrels in ancient and medieval times were musicians who composed and performed their own poems and songs, very similar to troubadours in the European tradition.) So it is appropriate that the children can also learn to perform music and to dance at the village school.
The promoters of the initiative, Gallery 25, are based in Gumri at the Berlin Hotel, which hosts art exhibitions. Their mission is to uphold the principles of artistic and intellectual freedom, through support for local and international artists and for cultural education. They stress that "Suns of Gusana"  represents the brightest spot in the village. Though located in a tiny remote village, with a population of little over 1,000, the pupils are making themselves known well beyond the borders of Armenia, as their works have been exhibited not only locally but also in Japan, Austria and Germany. Gusanagyugh is not only tiny and remote, it is dirt poor. Like other localities in Shirak, it was devastated by the earthquake in 1988. Much has been rebuilt, but a certain sadness hangs in the air. This is due not only to the modest housing but also to the military presence at the nearby Turkish borde. Truly, the art school project has brought many new suns into the sky, providing not only that very special kind of light, but also human warmth and the light of hope in a better future for Gusanagyugh's fascinated, diligent, talented children.
---
To Be a German or a Turk, That is the Question
By Muriel Mirak-Weissbach, Special to the Mirror-Spectator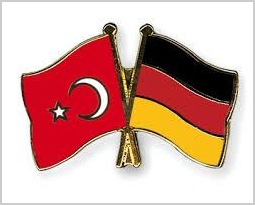 BERLIN, AUGUST 4, 2016— Relations between Berlin and Ankara, already strained by the German Bundestag's June 2 resolution recognizing the Armenian Genocide, have ratcheted down since, reaching a new low point in the wake of the Turkish government's responses to the failed coup attempt on July 15. Though sighs of relief could be heard throughout Germany when it was confirmed that a military coup had been defeated (albeit at the cost of many lives), new apprehensions arose with the blow by blow reports of mass arrests, not only of military actors who had commanded tanks and occupied buildings, but of legions of others whose alleged crime was association with the movement of Fethullah Gülen, the man promptly designated as the mastermind behind the coup. After the military officers of various ranks, it was the police, the magistrates, lawyers and court officials, then teachers and university professors and rectors, media outlets and their journalists, then public officials, bureaucrats in the public administration, even personnel in the ministries who were either carted off to rapidly overfilled prisons or summarily dismissed from their jobs and their institutions shut down.
President Ragip Tayyip Erdogan was apparently not playing with metaphors when he announced that the failed coup had been a "gift from heaven," which made possible and necessary the broad purges of all suspected Gülen associates throughout the institutions of the nation.
This did not sit well with the German political elite, whose spokesmen expressed "concern" and urged Erdogan, even in the heat of crisis, to respect the rule of law in his pursuit of those deemed responsible for the putsch attempt. When Erdogan mooted that the death penalty might be reinstated to punish the golpisti, alarm bells went off in Germany and the rest of Europe. Were that to be the case, as not only German Foreign Minister Steinmeier, but also EU officials said, such a move would compromise Turkey's bid for membership in the EU which does not admit capital punishment; accession talks would be put on ice.
Turkish government representatives forced the issue. Foreign Minister Mevlüt Cavusoglu, in a full page interview in the
Frankfurter Allgemeine Zeitung
on July 31, suggested that "the decision might be made in a referendum," adding that the "people" were demanding the death penalty in thousands of tweets and SMS to the government. The same Cavusoglu demanded that the EU deliver on its promise to lift visa restrictions for Turkish citizens as part of the agreement on refugees, and gave a deadline for it. The EU reiterated its refusal on official grounds that Turkey, like any other country, had to fulfill the 72 conditions for that privilege. For Cavusoglu it was a simple bargain: either the EU granted visa-free travel or Turkey would renege on its agreement with the EU on refugees. The response from Germany and Brussels was immediate and unequivocal: we will not be blackmailed.
Tensions climaxed on July 31 when up to 40,000 Turks residing in Germany and Germans of Turkish descent turned out in Cologne for a massive demonstration in support of Erdogan. Officially called by the Union of European Turkish Democrats (UETD), a pro-AKP group, the demonstration was organized around the slogan: "Yes to democracy, No to the coup." Since several small counterdemonstrations were announced by groups protesting Erdogan's clampdown on civil liberties, local police organized a massive presence, and fortunately no violence occurred.
The problem was political. Organizers had planned for Erdogan to address the demonstration by video, his image projected on a huge screen, but local authorities, fearing conflict between rival groups, banned it. When demonstration organizers took the issue to the German Constitutional Court, the ban was confirmed. Erdogan could not speak. That was the ultimate insult. Minister for European Relations Ömar Celik denounced the decision as "contrary to democratic values" and Sport and Youth Minister Akif Cagatay Cilic, who addressed the crowd, demanded a "reasonable explanation for why it had been rejected." A statement by Erdogan was read, however, and in it he expressed his thanks for the support of Turks in Germany, many of whom had taken to the streets against the coup on July 15, and stressed that the bonds between Turks here and Turkey were "stronger than ever."
That was not the end of the matter. On August 1, the Turkish Foreign Ministry summoned the German ambassador for a call down, Erdogan spokesman Ibrahim Kalin said the court decision had been "unacceptable," and Justice Minister Bekir Bozdag called it an "illegal and discourteous moment," a "disgrace" for democracy and law, adding that it was unacceptable for Germany to even speak to Turkey about democracy, law and human rights and freedom.
The Real Issue
One does not have to be a political scientist or journalist to ask, what in the world is going on here? Unless this is a kindergarten and the children are playing politics, something more is at stake.
On one level it is a question of diplomacy and international relations. Does Erdogan's Turkey (or any other government) have the right to dictate terms to Germany (or any other country) in such a Mafioso fashion? And thereby throw all legal and political agreements (be it on refugees or visa restrictions) to the winds, on grounds that relevant juridical conditions are deemed "offensive" to the "honor" of the said partner? Clearly, neither Germany nor the EU will capitulate to such threats; indeed, in Brussels some are already drafting alternate scenarios for dealing with the refugee crisis, should Turkey renege on its agreements.
But on a deeper level, it is a question of identity, personal and national identity. Are the Turks living in Germany, whether as legal residents or as passport-holding German citizens, Turks or Germans? For Erdogan et al, there is no question that they are all Turks, and that their undivided loyalties must lie with Turkey. This is what Erdogan had in mind when, in a 2010 speech he delivered in Cologne, he stated that "assimilation is a crime against humanity." Or, more recently, when he lashed out at Bundestag members who had voted in favor of the resolution on the Armenian Genocide, suggesting they submit to a blood test, to determine whether they had Turkish blood, or "tainted" blood.
In the wake of the failed coup attempt in Turkey, Erdogan has been conducting his heaven-sent purge operation against perceived enemies not only at home but also abroad. Not only has he demanded that the U.S. extradite Gülen, but his Consul General in Stuttgart sent a letter to the regional government demanding that it investigate various institutions affiliated with the Gülen movement. The Minister President Winfried Kretschmann, of the Green Party, flatly refused, and extraditions are out of the question.
In a wide-ranging joint interview with the
Frankfurter Allgemeine Zeitung
on July 29, Kretschmann joined with Green Party national leader Cem Özdemir, to discuss the matter. They both rejected out of hand any attempt by Erdogan to interfere in the internal affairs of a sovereign German state. The role of DITIB, which represents most Turkish mosques in Germany, and one third of all mosques, is crucial. The imams in the mosques of this group are all sent from the religious authorities in Turkey and their messages in Friday prayers reflect the political line from the homeland. Cem Özdemir reported that their members had complained to him they did not feel "represented" by the Turkish-German politicians here, and he countered, "I was however not elected by some ethnic group, but by citizens, and I represent my congressional district." Kretschmann was explicit: DITIB, he said, "considers itself as the representative of a foreign state in Germany – and we do not accept that."
What, then, does it mean to be a Turk, whether in Germany or elsewhere? Rainer Hermann, a Middle East expert, penned an insightful profile for the
Frankfurter Allgemeine Zeitung
. If in the beginning of the Ottoman Empire, peoples were organized according to religions (millets), though the leaders were Turkish, it was only under Atatürk that the idea of "Turk" was forged. Hermann references the book by Stefan Ihrig, on the importance of Atatürk for Hitler, particularly as far as the notion of an ethnically/racially uniform state is concerned.
Is that what it means to be "Turkish" in Erdogan's world today? Does it mean that, because one is an ethnic Turk, who comes from, or whose parents or grandparents come from Turkey, then that person has a duty to conform to and support a specific political ideology, in this case the belief structure of Erdogan's AKP? Is that what he proposes men and women of Turkish descent in Germany, whether long-term residents or citizens, should embrace as a self-identity?
---
Armenians Celebrate to Help Artsakh Victims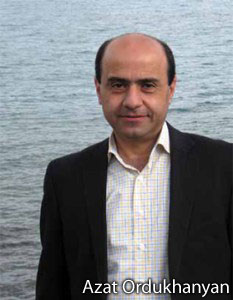 By Muriel Mirak-Weissbach – Special to the Mirror-Spectator
BOCHUM, Germany JULY 21, 2016— For Nathanial Ullmann, a journalist for the largest regional newspaper in Germany, the response of participants at a concert in Bochum on July 8 showed just "how different German and Armenian culture are." He explained: "Whereas Germans at an elevated cultural event sit there in silent wonder, Armenians sing, dance and clap in happy enthusiasm." And that is the case, even if the occasion might be a sad one.
This was a benefit concert in the Christ's Church in Bochum-Linden, organized by the Armenian-German Association 1860, and the proceeds will go to the families of soldiers killed in the Artsakh war last April, as the organization's head Azat Ordukhanyan said. Thus, a sad occasion, indeed; and yet, the mood was one of celebration. The ensemble "After Our Era," which had traveled from Armenia for this concert and for a folk festival near Frankfurt, performed on traditional instruments – duduk, tar (sitar), cylinder drum and Armenian bagpipe — while Madlena Galstyan sang. Selecting from a repertoire that spans the centuries, the musicians (virtually all graduates of the Yerevan Conservatory) presented works by the 10th-century monk Gregor of Narek, other medieval composers and, from the modern era, Makar Yekmalyan and Komitas Vardapet.
"And we have good reason to celebrate," said Heide Rieck, while introducing the performers to the hundreds of guests. Rieck, who is a leading figure in Bochum's literary milieu, has been engaged in several Armenian initiatives over the past years. Cause for celebration, she said, was the German Bundestag's recognition of the genocide on June 2 of this year. The music of Komitas, she said, who studied in Berlin and Paris, "has not been silenced and it has won out over the murderers, it lives on."
The church was filled to capacity, as hundreds of Armenians from the Ruhr region had come, as well as several from as far away as Hamburg and Toulouse. Traffic jams had delayed the concert but once all had arrived, the musicians marched onto the elevated altar area to the sound of rolling drums and the shrill tones of a flute. The parishioners of this church feel a special relationship to Armenia and the fate of its people, for a historical reason: a nurse from Bochum-Linden who had served in the Second World War bequeathed her life's savings – 50,000 deutsche marks — for the church to erect a statue on its premises, dedicated to the cause of peace. In 2005 a minister of the Christ's Church traveled to Armenia, and in Gumri met sculptor Albert Vardanyan. The following year, his statue, "Pulsar — Ode to Peace," was unveiled in front of the church. In his words of welcome, church representative Rudolf Skibinski Palmer highlighted this special relationship, and said that Armenia would figure as a theme next year in the context of festivities to celebrate the 500th anniversary of Martin Luther's theses.
Then the music began, and as Rieck described it, "marvelous sounds rang out from a faraway world, first melancholic, then soon with wit and swing," both so familiar to the Armenian soul; "and they let themselves be carried away, they clapped, they swayed in rhythm, and soon five young women (along with two little girls on the sidelines) could no longer sit still, and they danced, hips moving, arms raised and hands swirling – softly and yet strong, like wild flowers in the winds…"
When the concert concluded, the applause was enough to make the church walls shake. Ordukhanyan said it was a "unique feeling to hear Armenian songs in this setting." But the evening was not over. Groups gathered to talk and enjoy refreshments, then one of the musicians sat down at the organ and began to play, a flute joined in and even a German musician on hand took up his instrument, a German-Armenian duduk duet rang out, to shouts of "long live the Armenian-German friendship." It was midnight when the doors to the church finally closed. The journalist from the
Westfaelische Allgemeine Zeitung
summed up: "The Armenian people have not had an easy time of it in their history — but despite that, or perhaps because of that, they have never lost the joy of life."
---
The Challenge of Peace
By Muriel-Mirak-Weissbach
Special to the Mirror-Spectator – JUNE 30, 2016
Much has been made of the official Turkish reaction to statements made by Pope Francis during his visit to Armenia June 24-26. That hysterical response was as predictable as it was tasteless. One might take due note, but then move on.
The central thrust of the Pope's visit was not his recognition of the genocide per se but his guidance on the course to follow to overcome the enduring adversary relationship between Armenians and Turkey, and beyond. His appeal to Armenia's church and political leaders, as well as its people — especially the younger generation — was to mobilize those same spiritual and psychological resources which have made Armenian survival possible to intervene in the cause of peace and justice, not only there but throughout the world.
Although he is a head of state, it was with his moral authority as a spiritual leader that Pope Francis addressed issues of political import, which constituted a certain challenge to the Armenian people, whether in the Republic of Armenia or the Diaspora. In a video message sent on June 22 to the people of Armenia, and reported on the Vatican radio website, the Pontiff outlined the main themes of his mission. He would make this "visit to the first Christian country," he said, as a pilgrim, who would "draw on the ancient wisdom of your people and to steep myself in the sources of your faith." He appealed for perseverance, not to give up "even in the face of the repeated assaults of evil," and pledged his support for efforts towards peace and reconciliation. In parallel he would seek to fuel the process towards unity of all Christians.
Peace, Reconciliation and Unity
In his entry in the guest book at the Tsitsernakaberd genocide memorial, Pope Francis wrote: "Here I pray with sorrow in my heart, so that a tragedy like this never again occurs, so that humanity will never forget and will know how to defeat evil with good…. May God protect the memory of the Armenian people. Memory should never be watered down or forgotten: memory is the source of peace and the future."
Throughout his visit he developed the deeper implications of this message. The sufferings of the genocide should never be forgotten. "Not to forget them, he said in Yerevan, "is not only a right, it is a duty," to warn against recurrence of such horrors. At the same time, he recalled "with admiration" how Armenians had survived through the power of their faith, which is their "true strength." The Pope compared the "wounds still open, caused by fierce and senseless hatred" to the wounds of the risen Christ, shown to the disciples on Easter. "Those terrible, painful wounds suffered on the cross, transfigured by love," he said, "have become a wellspring of forgiveness and peace." That means, "Even the greatest pain, transformed by the saving power of the cross, of which Armenians are heralds and witnesses, can become a seed of peace for the future."
How memory of such suffering, infused by love, can become the impetus for peace is a difficult concept, and not only intellectually. It requires a fundamental shift, emotionally and psychologically, in the mind of the persecuted. It means resisting "being caught up in the illusory power of vengeance," a point Pope Francis was to reiterate. Appealing explicitly to Armenian youth, he said they should "strive to be peacemakers" and build a "culture of encounter and reconciliation." Saint Gregory of Narek, whom Francis proclaimed a Doctor of the Church last year, he dubbed here as a "Doctor of Peace" and quoted a bold passage from his Book of Lamentations: "Remember [Lord,] those of the human race who are our enemies as well, and for their benefit accord them pardon and mercy.… Do not destroy those who persecute me, but reform them; root out the vile ways of this world, and plant the good in me and in them." Again, with reference to Gregory, Francis said that this "master of life," taught that we all are in need of mercy; despite failings and injuries, "we must not become self-centered…."
Defeat evil through the power of good — this is the concept that reverberated through the Pope's several homilies and speeches. In the struggle for unity of Armenians, and the broader unity of all Christians, Pope Francis again reached back into Armenian church history for examples, and again stressed the need to combat negative personal inclinations. The saintly Catholicos Nerses Shnorhali, he said, who was "Tireless in seeking unity, […] sought to achieve Christ's will that those who believe 'may all be one.' Unity," he went on, "does not have to do with strategic advantages sought out of mutual self-interest…" Francis added that we must "abandon rigid opinions and personal interests" in the name of love, love which is also "capable of softening the hardness of the heart of Christians, for they too are often concerned only with themselves and their own advantage."
Self-reflection
That this Pope has the authority to speak his mind on such matters is irrefutable; he has not only paved the way in the international diplomatic arena for political and institutional recognition of the genocide, he has also called members of his own Curia onto the carpet for their personal failings. If the Pontiff was generous in his appreciation of the strength of the Armenian Church and its people through centuries of tribulations, as well as the beauty of its intellectual and artistic accomplishments, he was no less forceful in his appeal for willful change in a certain mindset which may thwart the search for peace. He laid down the gauntlet to all of us Armenians, whether in the Republic or abroad. History has provided enough tragic examples that peace treaties may be worth less than the paper they are written on. Unless there is a fundamental revolution in thinking, a deliberate emotional and psychological change in the minds and hearts of those seeking to overcome conflicts — and on all sides — the paper remains nothing more than paper. Not to mention unity — whether of the Armenians or of the churches.
In following the reports of Pope's visit, I was reminded of a couple of singular encounters with fellow Armenians in recent years. The young taxi driver in Glendale, who had been in the US only a few years, told me with grim joy and fierce pride about how he had "shot and killed four Turks" in the war. Or the woman who came up to me after a book presentation in Boston and asked me if I knew any Turks in Germany, and if yes, whether or not I would shake hands with them.
---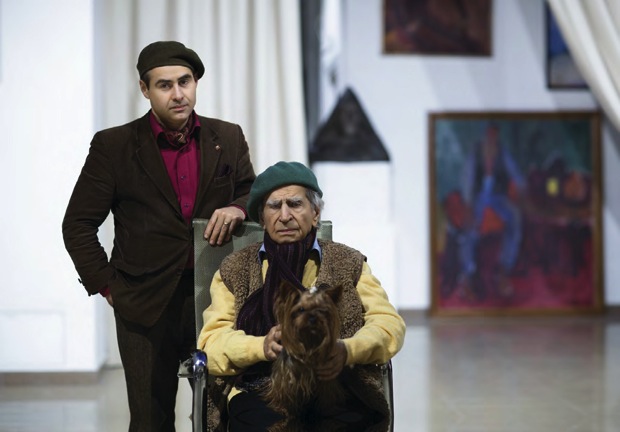 Archi Galentz, Nikolai Nikogosyan and Gougen in "Niko" cultural center. Moscow 2016. (Photo by Oleg Tzerbaev)

Artistic Journeys through National Destinies

By Muriel Mirak-Weissbach
Special to the Mirror-Spectator – JUNE 23, 2016
BERLIN — This is a most rare art exhibition. Not focused on one artist or even a school, it presents the works of distinct individuals joined through family ties, whose creative endeavors trace out a multifaceted cultural itinerary across vast geographical expanses through decades of turbulent political and social developments. The show that opened in Berlin on May 14, entitled "Four Life Paths: Two Artist Couples in the Armenian Tradition," is indeed something very special. The works displayed are by four artists whose lives span a century, from before the First World War to the present. Two are Genocide survivors from Western Armenia, who made their way across the Middle East to Yerevan, whereas the other two were born and raised in Armenia, studied and worked there and in Russia. Through their personal and artistic histories, one encounters life in the diaspora, struggles in the Soviet period and the challenges of the independent Republic of Armenia.

The artists are Mariam Aslamazyan (1907 – 2006) and her brother-in-law Nikolai Nikogosyan (born 1918); Harutyun Kalentz (1912 – 1967) and his wife Armine Kalentz (1920 – 2007). Three of the four continued even after the collapse of the Soviet Union, and their artistic endeavors provide rare insights especially for the younger generation into these two crucial epochs in modern Armenian art. For many young artists active 25 years after the fall of the Berlin Wall, it is difficult to conceive what life at that time was like.

The exhibition at the Kulturhaus Karlshorst, which runs until July 3, is part of the German-Armenian Cultural Days, an initiative taking place this year for the second time, which aims at strengthening the bonds of friendship between the two communities. Among the sponsors are the Association of European and Armenian Experts e.V. (AEAE), the Berlin Lichtenberg Department of Education, Culture, Social Affair and Sports as well as the InteriorDAsein/Berlin artist run space. Curators are Dr. Peter Michel, a leading expert in Soviet art, and Archi Galentz, artist and creator of InteriorDAsein, which houses many of the 30 works on display.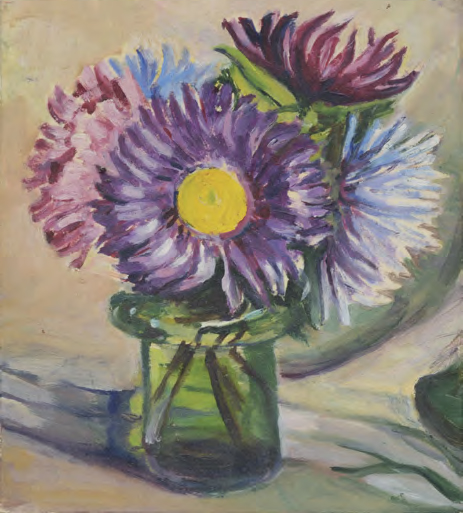 Mariam Aslamazyan."Astern in a green glass" 2002. (Photo by Archi Galentz)


Perhaps Archi Galentz is the only person who could have put together such an exhibition. All four artists are his ancestors, and most of the works come from his collection, which he received as memoirs, or as pieces to be restored, or to put on display. But it would be wrong to reduce this to a family affair. Certainly, due to his personal relationship to the artists, he has been able to afford the visitor a privileged insight into their careers as well as their personalities. But his aim in presenting these works, shown here together for the first time, is to explore the question raised, not only by them, but by the younger generation that came after, the generation to which Archi Galentz belongs: how should we evaluate that period in art?

The catalogue for the exhibition, itself a little masterpiece, opens with a rich exchange of views between Michel and Galentz on this central theme. In their dialogue on "The Destiny of Artists and History," art critic Michel noted that "before 1990 in Armenia and in East Germany there were in fact similar developments in the arts." Following the collapse of the Soviet Union, "it was not a matter of chasing after some nebulous ideas of freedom, but rather of uniting artistic awareness of responsibility with the actually contradictory reality, not to throw grand human ideals overboard, but rather to preserve them and at the same time make people aware of the failures." Artists in communist East Germany and those in Armenia adopted different means to this end; the former explored "the language of myths" whereas the latter became "conscious of the power of national traditions." For Galentz, it is important in evaluating the Soviet experience to avoid "simplistic half truths," for example, by pitting "communism" against "experimentation," or "freedom" against some "party line" approach. In his view, the value of artistic expression cannot be reduced to formalistic criteria: "Soviet art was … involved in continuing a certain humanistic project, with the question, what kind of society one should live in, and how this sort of man should be, and so forth."

Michel recalled an observation made by German painter Bernhard Heisig, who said, "The artist's position in society – even in a socialist society – does not necessarily have to be negative. His significance does not have to lie exclusively in protest against his surroundings." Such a negative approach in fact has given rise to ridiculous excesses, for example, among those, he said, "who confuse avant-gardism with the progressively creative," that is, those who think anything "new" is necessarily creative or, that to be creative one has to seek novelty.

The four artists featured in the exhibition found themselves in a historical framework following the collapse of the Soviet Union in which, as Galentz put it, they had to "rediscover painting as their art form and field of interest." The main theme of the exhibition is "the interconnection of two schools of realism" represented by these four classical artists: concentration in the traditional form of representation was developed by Mariam Aslamazyan and Nikolai Nikogosyan, both born in Armenia, after their education in Russia. As for Harutyun Kalentz and Armine Kalentz, who moved from the diaspora in Lebanon to Soviet Armenia, "it unfolded from the yearning to develop their own national 'artistic language' in great variety" in which paint functions as "a means to achieve depth in the canvas."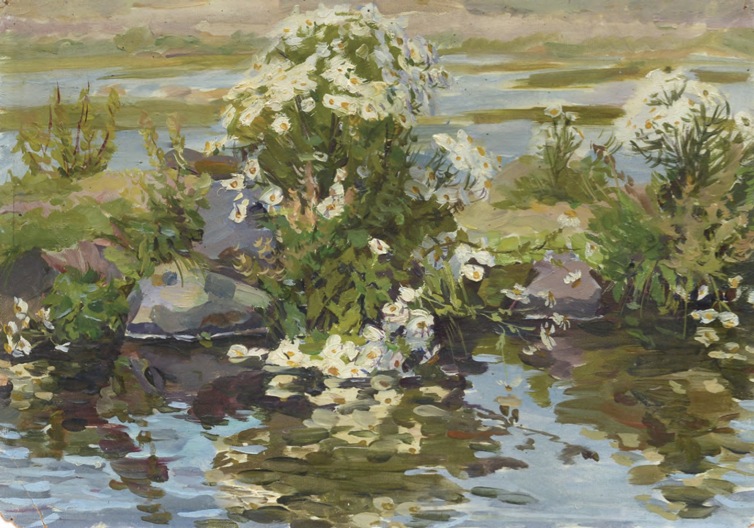 Mariam Aslamazyan."Chamomiles by the River Bank" 1953 (Photo by Archi Galentz)

Related through Art
Mariam Aslamazyan and Nikolai Nikogosyan are considered an artistic "pair" here, not because they were joined in matrimony, but because they worked together in art and had close family ties. Aslamazyan, Archi's great-aunt, came from Bar-Shirak, a village near Gumri (formerly Leninikan) and had childhood memories of Turkish occupiers in 1918-1920. She studied art there and in Yerevan, as well as Leningrad, where she met fellow art student Nikolai Nikogosyan in 1938. She exhibited in Yerevan and Moscow in the 1930s, and moved to the Russian capital after the war at the same time that Nikogosyan did. In 1944 or 1945, he married a younger sister of hers (there were six girls in the family), and as a result of the close family relationship that developed, "one can consider the two," Archi says, "as an artist couple. They lived and worked side by side for 60 years."

Aslamazyan received wide recognition for her work. She was named a member of the board of Armenian Artists Association, was honored for her antifascist stance in the war and in 1990 received the title Peoples Artist of the USSR, but her fame extended beyond the Soviet Union. Her works were exhibited across Europe, in Mexico, Africa, and the Far East; she met world famous personalities like Indira Gandhi and she received prizes in India and Egypt. She loved to travel, and everywhere she went portrayed individuals from different cultural worlds, especially, but not exclusively, women: mothers and grandmothers, peasant women as well as ballerinas and actresses. With an energetic use of bold, bright colors, she also explored architectures and landscapes, be it cloisters in Armenia or city scenes from places like Calcutta and Bombay, Madras and Cairo. "I sought for my language in art," she wrote. "I drew everything very thick, the color was extremely intensive; I wanted my pictures to make people happy."

Whereas she was "active in painting, graphic arts and ceramics," we read in the catalogue, her artist companion Nikogosyan "is known above all as a sculptor who also paints and draws." Or, as he so aptly put it, "Sculpture is my wife and painting is my mistress." Born in 1918, Nikogosyan, who is Archi's maternal grandfather, is still active at 97 and has every intention of continuing. Truly a "living legend of Armenian and Soviet art history," he left his native village Shagar in 1930 for Yerevan, then studied in Leningrad at the Institute for Painting, Plastic Arts and Architecture of the Academy of Arts. He exhibited as a member of the Soviet Artists Association, won numerous prizes, was named Peoples Artist of the USSR, appeared in 1956 at the Biennale of Venice, and continued to exhibit widely with personal shows. Armenians and foreign visitors know him for his monumental statues, crafted out of a variety of materials — bronze, plaster, wood, marble or granite — portraying, for example Avetik Ishakyan in Gumri and Mikayel Nalbandyan in Yerevan, or the sculpted portraits of Louis Aragon, Aram Khachaturian, Dmitry Shostakovich, the monuments to Komitas Vardapet and the fifth-century historian Moses of Choren, Vladimir Mayakovsky and Yuri Gagarin, among others. Among the pieces on display in Berlin is a profoundly moving piece, a study for a monument to Paruyr Sevak, seated in a pensive attitude.

No less impressive are the countless drawings and sketches by this extremely prolific artist, portraits which capture the psychological essence with great empathy. Among them his self-portraits, from 2006 and after, occupy a special place. They are, we learn, not designed to be ambitious representations of himself, but rather works in which the artist poses questions to himself, sometimes "ruthless, or thoughtful, sometimes bitter or angry…" They are the self-reflections of someone who, at that age, "loses his vanity in the self-consciousness of his life's achievements and is at peace with himself."

Harutyun and Armine Kalentz were more properly speaking a couple from the diaspora, Galentz told Michel. Archi's paternal grandfather Harutyun was born in 1910 in Gürün, in central Turkey, into a family that traced its origins back to princely beginnings in the ancient Armenian capital of Ani. Armine Baronyan was 10 years younger, and came from Adabazari near Istanbul. Both Harutyun and Armine lost their fathers in the Genocide. Armine fled with her mother and siblings across the Syrian border to Damascus. After the death of his mother in an Aleppo hospital, Harutyun and his siblings ended up in an orphanage. It was there that the young boy's artistic talent was discovered and encouraged. After studying with Armenian artists, he travelled through Syria and Lebanon, and in 1931 started working in Beirut in the atelier of French impressionist Claude Michelet.

It was in Beirut that Armine, who had discovered her own love for art while visiting Italy in the 1930s, met Harutyun and became his student. She worked with him on the Lebanon pavilion for the world exhibition in New York in 1939-40 and in 1943 the two married. Three years later they moved to Armenia, where they held exhibitions together and with other artists who had also returned, and won honors. In 1963, Harutyun was named Outstanding Artist of the Soviet Republic of Armenia and only four years later died young of a heart attack. Armine had begun to exhibit in personal shows internationally in 1963, with repeated appearances in the 1990s in the United States. She died in 2007.

Other times, other places
How has the work of these four artists, in their particular artistic and personal itineraries been received? As Armenian artists active during the Soviet period, how should they be considered? How were their works received, aside from official honors and titles? And how did they assess this experience? Archi Galentz, who has been in Germany for more than 25 years, says one cannot forget that Armenia was once part of the USSR. The men and women whose works he has put on display "were pillars of Armenian national art but also highly revered personalities in Moscow's greatest museums." For example, there are 26 works by Nikogosyan in the Tretjakow Gallery and a "Niko" Cultural Foundation is in the process of coming into being in the Russian capital.

It was often said that his grandfather Harutyun Kalentz, though acknowledged as a great artist, had not been truly appreciated. But Archi points out that, after his premature death in 1967, the Yerevan city authorities decided to turn his home into a museum. After the collapse of the Soviet Union, there were those who wanted to present him as an opponent of "the communist regime," but if that were the case, Archi wonders, why was he spared in the 1940s and 1950s? His grandfather was certainly not a Russophobe, Archi can say for certain, and he must have realized the security for Armenia that Russia could provide at the time. He may have been an opponent but he cannot be classified as an enemy. In the catalogue both aspects of his political personality are reflected: in a brief account of his dismay at learning that the son of an artist colleague had died of starvation, one may see the opponent; yet he crafted a magnificent portrait of a Russian soldier in uniform in 1964 (a work which has curiously disappeared). His grandfather, Archi remembers, managed to walk a fine line, maintaining his independence and integrity. He succeeded in raising two sons and giving them higher education. Blessed with a patron, who purchased his works and introduced them to a circle of connoisseurs, one might think that compared to today, Kalentz lived the life of "a prince of painters in paradise," says Archi. Living in his own house with a garden, he could paint whenever and whatever he liked, had adequate materials, could entertain guests, drink coffee with them or play his beloved board game nardi (backgammon). In 2010, on the centenary of his birth, the Galentz Museum opened in Yerevan, and in Armenia a commemorative stamp was issued. For his wife, Armine, life in the Soviet Union after 1946 was not easy. But she said she had no regrets about having moved there, since only there could she, as an Armenian women, find fulfillment as an artist.

As for Nikogosyan's fame in Russia, there are a number of statues he was commissioned to create as a young sculptor, commemorative plaques, and critical studies of the period feature his activity. Aslamazyan, who lived to be almost 100 years old, died in Moscow and rests in the pantheon in Yerevan. In her native Gumri, an Aslamazyan Sisters Museum houses works by her and her sister, Eranuhi. At the same time, as Archi points out, they are also part of the Moscow cultural landscape.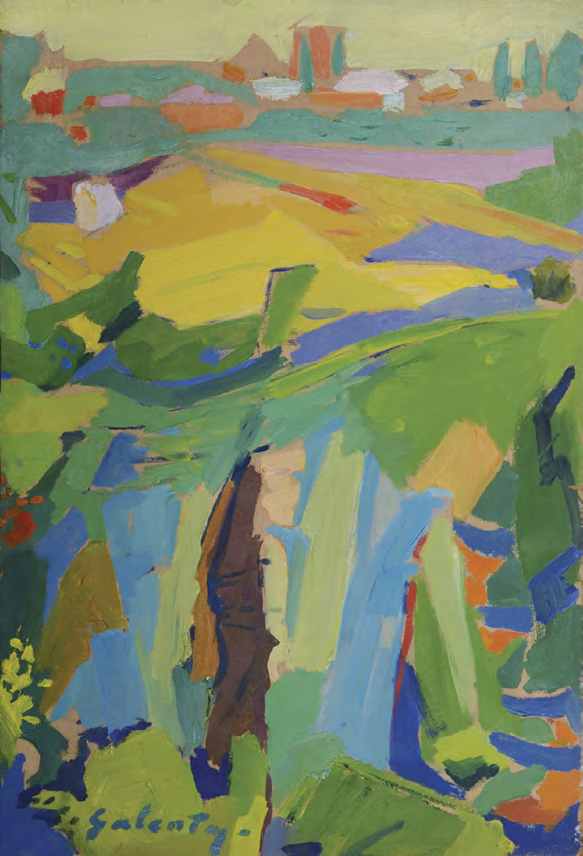 Harutyun Kalentz. "Spring in the Garden" early 1950s (Photo by Archi Galentz)


Distinct Personalities
These four artists, who have shared a common, though differentiated journey through turbulent times in life and art, emerge in the exhibition as highly individualized talents. The curators have taken special care to provide a glimpse of each as a singular personality, by including short passages from their writings. Thus, we read Nikogosyan's account of a chance encounter with a man who bore a remarkable resemblance to Vincent Van Gogh, and whom he joined in a moving tribute to a deceased poet. We read of how Aslamazyan continued drawing literally up to her dying day. "I don't get out of the house now," she wrote in her nineties, "but in any case I get up at eight o'clock every morning and do my exercises, have breakfast and sit down in front of my drawing board. I draw 3 to 4 hours a day, otherwise I cannot live." In this special collection of thoughts, entitled "Davtar of My Life" (2001), she concluded, "That is all; what comes next, I do not know." In the same work, she philosophized: "What would happen if one had no dreams? A dream is the beginning of creativity. A dream is the future."

Armine Kalentz, who exerted a profound influence on her grandson, also recorded her thoughts in a volume entitled, Longing … Valuable Recollections. Armine Kalentz about Herself. In one entry she reflects on the role of the creative person: "An artist is a lucky mediator between God and humanity. He finds the meaning of life in beauty, in that he reflects it in the soul and abandons himself unreservedly to this cause. This striving can also be hard however, when every time, disappointed, it uncovers a truth, and communicates incessantly with death."

A Curse and a Blessing
When Nikogosyan's daughter and Kalentz's son met as art students in Yerevan, they fell in love and married. Their son Archi Galentz is not surprisingly also an artist, who has studied in Russia, Armenia and Germany, his current home. This "artist family dynasty," as critic Michel puts it, recalls similar families, like the Brueghels, Cranachs and Giacomettis. Was this, he asked, a problem for the younger scion of the family?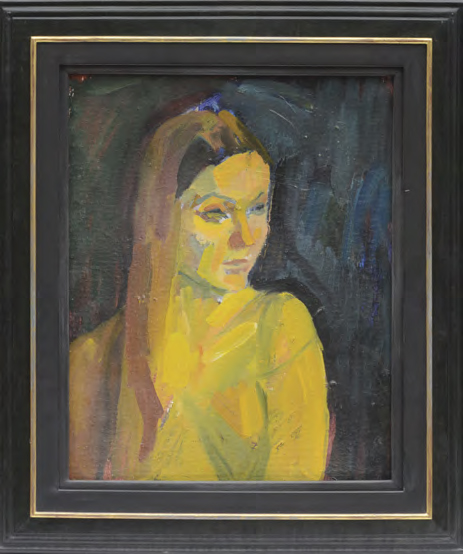 Nikolai Nikogosyan."Smiling Lady" 2005 (Photo by Archi Galentz)


Archi quoted the farmer's adage that says: 'Under a mighty tree no grass grows.' Born into such a family he had to discover himself, find what was truly his own. Through extensive travel, he was exposed to a variety of artistic experiences, yet "the interest in the intellectual heritage of my grandparents stayed with me." He had to come to terms with this past, in a spirit of respect although not without a critical approach. His heritage he considers both "a curse and a blessing": a curse, "because some saw me as privileged, as one who could not rebel against the achievements of his forefathers. Most young people do not know the influence exerted by the generation of my grandparents, who lived and worked in a state in which there was injustice." As for the blessing, this "lay in the fact that already as a teenager I was excited about the euphoria about change taking place in the Soviet Union. And when, from Berlin, I witnessed the collapse, that did not correspond at all to what I had seen in the life and work of my grandparents. So I have been forced to erect my own edifice of ideas, the way archaeologists put together a picture from the pieces of a puzzle."

Archi did not know his grandfather and namesake Harutyun, who died young, but had the advantage of close relations with the others. Grandmother Armine impressed upon him the need to abide by one's own convictions. And he enjoys the invigorating company of grandfather Nikolai Nikogosyan — "still, at an advanced age, a very vigorous person to converse with."

As Kerstin Beurich, District Councilor for Education, Culture, Social Affair and Sports, noted, "Armenian painting is less well known in Germany than Armenian music." This is certainly the case, and not only in Berlin. All the more reason then for such shows to travel to faraway places. It is to be hoped that this exhibition will be invited to other lands, especially those where the artists worked and exhibited, and where there is a large Armenian diaspora community. Would it not be wonderful to host this exhibition in New York and Boston or Los Angeles?

(Note: Quotes have been translated from the German catalogue text by the author.)




---