Happy Birthday Wolfgang Gust!
By Muriel Mirak-Weissbach

FRANKFURT AM MAIN, Germany June 4, 2015— In the year of the centenary of the Armenian genocide, numerous new books have appeared ranging from memoirs to historical studies and literary works. In Germany commemorations highlighted the role of Imperial Germany as the wartime ally of Ottoman Turkey and the Young Turk regime. Official commemorations in Berlin, from an ecumenical church service April 23, after which President Gauck spoke, to a historic Bundestag debate on the genocide on April 24, signaled recognition of the genocide at the highest political levels.
Without the pioneering work done by German researcher Wolfgang Gust and his wife Sigrid, in making available the official documents from the German Foreign Ministry archives during the First World War, such broad discussion of this crucial political chapter would be unthinkable, discussion which has included these bold initiatives in April on the part of political authorities, from the president to the Bundestag.
Over 30 prominent personalities came together from the United States, Europe, Turkey and Armenia to offer their congratulations to Wolfgang Gust on his 80th birthday, on April 9. In a gathering near Hamburg, where Gust and his wife reside, a group of close friends and associates presented him with a Festschrift. In German tradition, a Festschrift is a volume of greetings and scientific papers published in recognition of work of the celebrated person, in this case Wolfgang Gust. The book is titled Wolfgang Gust zum 80. Geburtstag:
"Was hat der Mensch dem Menschen Größeres zu geben als Wahrheit?" (ISBN: 978-3-934997-73-8).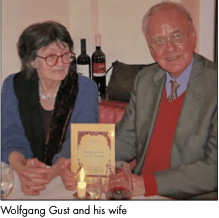 The subtitle of the volume is a quotation from German national poet Friedrich Schiller's historic inaugural speech as professor, "What greater gift can one give a person than truth?"
Archbishop Karekin Bekdjian opened the volume with moving words of gratitude for what Gust has accomplished. Among the academics are leading genocide researchers like Richard Hovannisian, Taner Akçam, Tessa Hofmann, Raymond Kévorkian, Rubina Peroomian, Margaret Lavinia Anderson and Eric Weitz, who have presented greetings and scientific papers. These include Matthias Bjørnlund and Vagharshak Lalayan who have collaborating closely with Gust on his unique website www.armenocide.net. Leaders of Armenian research and cultural institutions are represented, like Rouben Paul Adalian of the Armenian National Institute, Robert Mirak of the Armenian Cultural Foundation, Marc Mamigonian of the National Association for Armenian Studies and Research (NAASR), Raffi Kantian of the Deutsch-Armenische Gesellschaft and George Shirinian of the Zoryan Institute. Of particular interest are the contributions by Turkish intellectuals and artists who have been influenced by Gust's work and person, Serdar Dincer, Ragıp Zarakolu, Dogan Akhanli and Fatih Akin, as well as German Bundestag member Cem Özdemir. Further cultural interventions come from Armenian artists Archi Galentz and Bea Ehlers Kerbekian, and German poetess Heide Rieck.
New research presented in the scientific papers spans a vast range of topics, from Armenian source material on the genocide, to insights of a Danish-German politician in the Reichstag, from the symbiotic relation of Armenians and Turks to a suggested German-Turkish symbiosis, and to close examination of the military relationship, from the historical significance of Consul Leslie Davis's photographs to a psychoanalytical examination of the phenomenon of denial. The volume includes presentations in German, English and French.

Festschrift

Wolfgang Gust zum 80.Geburtstag
"Was hat der Mensch dem Menschen Größeres zu geben als Wahrheit?"
Herausgeberin: Muriel Mirak-Weißbach
Gestaltung und Druck: Verlag Dinges & Frick GmbH, Wiesbaden 2015
ISBN: 978-3-934997-73-8
222 Seiten bebildert
Hardback
Preis: € 29,00 plus Versandkosten
Zum 100. Jahrestag des Beginns des Völkermords an den Armeniern sind zahlreiche neue Bücher erschienen, darunter Memoiren, historische Studien und literarische Werke. In den Gedenkveranstaltungen in Deutschland wurde in besonderer Weise an die Rolle des Kaiserreichs als Kriegsverbündeter der osmanischen Türkei und des Jungtürken-Regimes erinnert.
Ohne die Pionierarbeit von Wolfgang Gust und seiner Frau Sigrid, die jahrelang die Archive des Auswärtigen Amtes durchforstet und die relevanten offiziellen Dokumente aus der Zeit des 1. Weltkriegs zusammengestellt und verfügbar gemacht haben, wäre eine solch breite Diskussion undenkbar gewesen. Man denke nur an die deutlichen Initiativen im April durch die politischen Autoritäten, vom Bundespräsidenten bis hin zu den Fraktionen des Bundestags.
Mehr als 30 prominente Persönlichkeiten aus den USA, Europa, der Türkei und Armenien haben sich nun zusammengefunden, um Wolfgang Gust zu seinem 80. Geburtstag ihre Gratulationen zu übermitteln. Seine Eminenz Erzbischof Karekin Bekdjian fand in seinem eröffnenden Beitrag bewegende Worte der Dankbarkeit für das, was Gust geleistet hat. Unter den Akademikern finden sich führende Genozid-Forscher wie Richard Hovannisian, Taner Akçam, Tessa Hofmann, Raymond Kévorkian, Rubina Peroomian, Margaret Lavinia Anderson und Eric Weitz, die teils Grüße, teils wissenschaftliche Papiere sandten, so Matthias Bjørnlund und Vagharshak Lalayan, die eng mit Gust bei der Erstellung der einmaligen Webseite www.armenocide.net zusammenarbeiten. Auch führende Vertreter armenischer Einrichtungen der Forschung und Kultur gehören zu den Gratulanten wie Rouben Paul Adalian, Armenian National Institute, Robert Mirak, Armenian Cultural Foundation, Marc Mamigonian, National Association for Armenian Studies and Research (NAASR), Raffi Kantian von der Deutsch-Armenischen Gesellschaft, sowie George Shirinian vom Zoryan Institute. Von besonderem Interesse sind die Beiträge türkischer Intellektueller und Künstler, die durch Gusts Arbeit und Person beeinflußt und inspiriert wurden, wie Serdar Dinçer, Ragıp Zarakolu, Doğan Akhanlı und Fatih Akın, aber auch der Bundestagsabgeordnete Cem Özdemir. Weitere kulturelle Beiträge kamen vom Maler Archi Galentz, der Schauspielerin Bea Ehlers-Kerbekian und der Dichterin Heide Rieck.
Eine Reihe von wissenschaftlichen Papieren behandeln völlig neue Forschungsergebnisse zu einem breiten Spektrum an Themen. Diese reichen von armenischem Quellenmaterial zum Genozid über Einsichten eines deutsch-dänischen Reichstagsabgeordneten, über die symbiotische Beziehung zwischen Armeniern und Türken bis hin zur symbiotischen Beziehung zwischen Deutschland und der Türkei, einer eingehenden Untersuchung der militärischen Zusammenarbeit, der historischen Bedeutung der Fotos von Konsul Leslie Davis bis hin zu einer psychoanalytischen Untersuchung des Phänomens der Leugnung in der Türkei durch Esther Goldstein-Schulz.
Wenn Sie die Festschrift bestellen möchten, schreiben Sie an:
mirak.weissbach@googlemail.com
Oder
Muriel Mirak-Weissbach
Wiesbadenerstr. 43
55252 Mainz-Kastel
Deutschland